Best Email Marketing Strategies For 2022
Email marketing is one of the most effective marketing strategies that have been used by modern companies for a long time. Emails are easy to track, send, and receive feedback on, making them useful tools to understand whether a specific marketing strategy is working or not.
To give some context about emails, the first email is sent in 1971 by Ray Tomlinson, who transformed modern communication. Even though there was nothing special in the email (a bunch of numbers that resembled a password), it marked the beginning of a new era.
Years later, in 1978, Gary Thuerk sent the first unsolicited mass e-mailing (fun fact, these were the first spam emails), the first commercial emails. This was the first try at e-marketing, which will give rise to email marketing in the coming years.
Today, these developments are the reason why email marketing campaigns are a huge part of any marketing strategy, from welcome emails to customer success emails. Even though sometimes it feels like our email folders are overflowing with spammy-like emails, nobody could deny the fact that email marketing has one of the highest ROI across all businesses.
Even though it feels like it is easy to understand and master email marketing, it actually requires attention to detail and a comprehensive understanding of customer behaviors. Therefore, it is important to know what email marketing actually is, what metrics are used to track it, and how can you decide which type of strategy are you going to choose. In this article, we will look at different aspects of email marketing and the ways you can enhance it.
Segment Your Subscribers
In 2019, more than 290 billion emails are sent daily, and it is expected to overshoot this figure at the end of 2021 by 347 billion emails daily. These emails can be categorized as personal, business, and marketing, etc.
It is crucial for you to segment your emails according to your audience, their behaviors and preferences, and background. With segmentation, your emails would be more targeted and focused. Rather than expending your time, effort, and money to audiences that will not engage with your emails, with segmentation you can get the most out of email marketing.
For example, if your company is organizing a special summit for their product, sending invitation emails to people who are geographically close to the summit would be a wise decision. If you send these emails, to people all around the world, they will not yield any participants to the summit and in turn, any new customers. It is also pretty annoying from a receiver's point of view to receive a sequence of emails about a summit that they cannot even attend to.
The best way to reach your targeted audience is to segment your subscribers/audience into different categories and send emails according to them. A successful segmentation would result in a better open rate, click rate, bounce rate, and unsubscribe rate.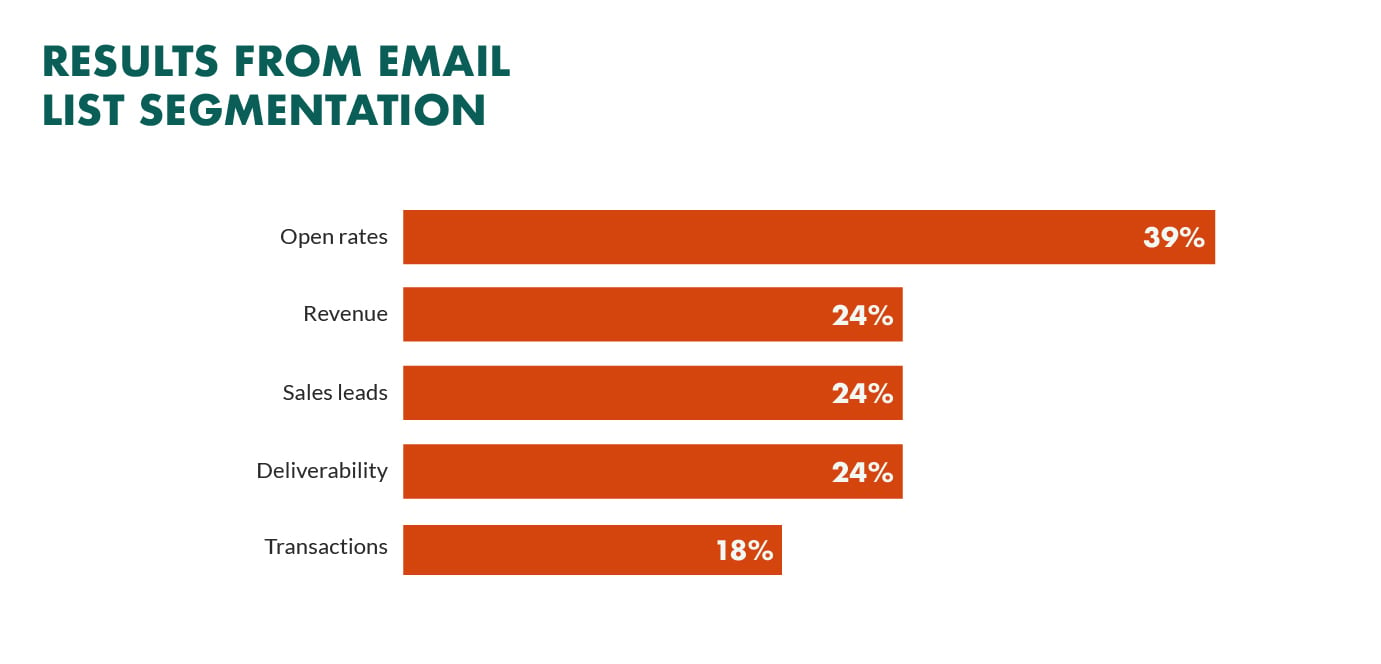 Segmentation is a valuable tool that can be implemented easily. However, still, there are marketers who are not segmenting their emails in the right way or completely not benefiting from segmentation. So, here are some ways you can segment your audience:
By Industry: It is the simplest form of segmentation; however, it is also one of the most effective one. Knowing the industry of your customers can give you valuable information about whether your customers will engage with your emails or not. For example, an email campaign about computer parts would be more engaging for a business that builds computers. However, a business who sells beauty product would not engage with the email. Therefore, segmenting can help you save time, energy, and money.
By Company Size: In other words, segmenting your audience according to their revenue. It is especially helpful if your product/service is specifically designed for companies tha are big or vica versa. Therefore, by sending an email about a product that a small company cannot afford, you will not benefit from.
Sales Cycle: You can think this segmentation as dividing your subscribers into different levels. A new subscriber would not be ready for an aggressive email campaing or a specific feature-focused tutorial. Likewise, an email that is basic and tutorial-like would not fit for a subscriber that has been using the product for a long time.
Choose The Right Time
The key to successful email marketing is choosing the right time to send emails. You cannot just send emails any time of the day and wait for a good open rate. Like in everything, there are optimal times to send emails, which change according to business, audience, and certain subscriber business.
The inbox crowding and the deployment times also have huge effects on determining the timing. For example, if you send emails at a time when few other emails are crowding your subscriber's inbox, it will have a greater chance of being seen. However, if the time you choose is not convenient for your subscriber to open the email, your email will have a lower chance of being seen. Therefore, perfecting the timing of your emails crucial to successfully convey the message you want your subscriber to see.
The best way to understand the right time for your business and subscribers is testing, testing, and testing. You may perform A/B tests to track the times your subscribers are more active and available to engage with your emails. You may also occasionally change the times you send your emails and collect data about email success rate, open rate, and bounce rate.
Here is a useful table for the most effective times to send emails according to different types of businesses:
Most of the time, businesses are using automation, which enables you to execute 3D testing to understand the optimal times. Tools like HockeyStack can help you determine the time and strategize according to them. You can scroll the end of the article to read more about what can HockeyStack do for you.
Send Emails Based On Feature Usage
If you are sending the same emails to every subscriber, you are doing something wrong. Each subscriber should be treated individually according to its needs and behaviors. For example, some of your subscribers may need emails about tutorials. On the other hand, others may engage with emails about FAQs.
Email automation, behavior-driven email, are messages that are sent by your email service provider triggered by the user's specific actions. In other words, it is how you can treat each of your customers according to their needs. Automated emails allow you to easily and quickly respond to your subscribers individually, increasing customer engagement, retention, and loyalty.
By tracking which customers are using which features, you can send emails based on these features. This will help you to send targeted emails and increase your open rates. At the end of the day, the most important thing about email marketing is to have a high and stable open rate. Therefore, understanding your customers' behaviors and treating them individually is important to have a successful email marketing strategy.
Test Different Subject Lines
The first thing your subscribers see about your email is the subject line. It determines whether your subscribers will open your email or just pass it. Therefore, understanding and choosing the most effective subject line can change a lot of things about your email marketing.
Since the subject line is the first impression it should be concise and precise. You are not trying to convey the whole message of your email with the subject line; your aim is to intrigue your subscriber to click on your email. Therefore, your subject line shouldn't be very long, distracting, and boring your subscribers. However, it shouldn't be also very short to the point which your subscriber thinks the mail is spam mail. Here is a table that compares the number of words and open rate:
| | |
| --- | --- |
| Number of Words | Open Rate |
| 0-5 | 16% |
| 6-10 | 21% |
| 11-15 | 14% |
| 16-20 | 12% |
| 21-25 | 9% |
From Invesp
As you can see the optimal number of words is 6-10, which is not very long or short. However, it is not the easiest thing to write the right subject with just 6-10 words. Most of the time, marketers want to use flashy sentences. However, with strong nouns and verbs, you can construct a good subject line without distracting or boring your subscriber.
While creating your subject line, you can keep in mind:
Entice curiosity, but use simple and clear words.
Using numbers is great strategy because they catch the eye and entice curiosity.
Use friendly ad conversational without being cheesy.
Show your product's/service's personality.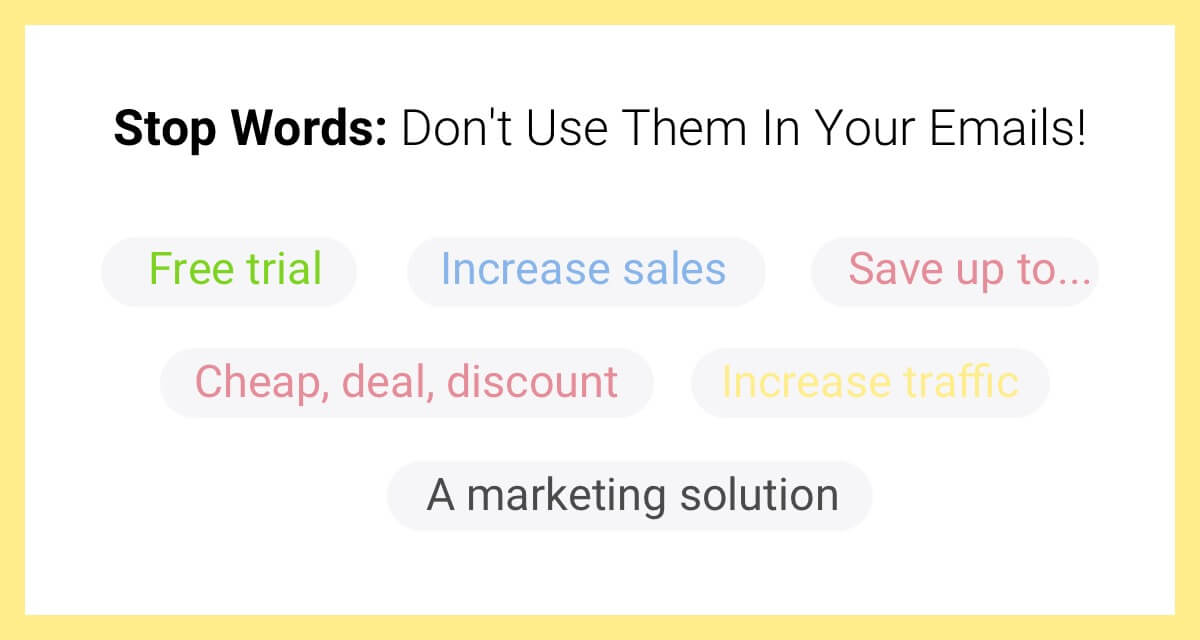 Measure Your Sucess
Measuring the success of your email marketing is an important aspect to understand your weaknesses and strengths. There are a lot of email marketing metrics that can help you to track, collect, and analyze data specific to emails. The most prominent ones are ROI, open rate, and click rate. These will give you a general idea about how your subscribers are reacting to your emails. There are also other types of metrics that will give you a deeper analysis of in which ways your subscribers are engaging with your emails. For example, HockeyStack can help you to understand the optimal time, define your audience, and organize your email list through its powerful email marketing metrics.
Measuring success is also important to redefine and reanalyze your marketing strategies. Even though email marketing is one of the most successful marketing strategies, it may not work for your business, or sometimes you may not realize your strategy is not beneficial for you. In these cases, having data about your email marketing is crucial to take data-driven actions to enhance your marketing.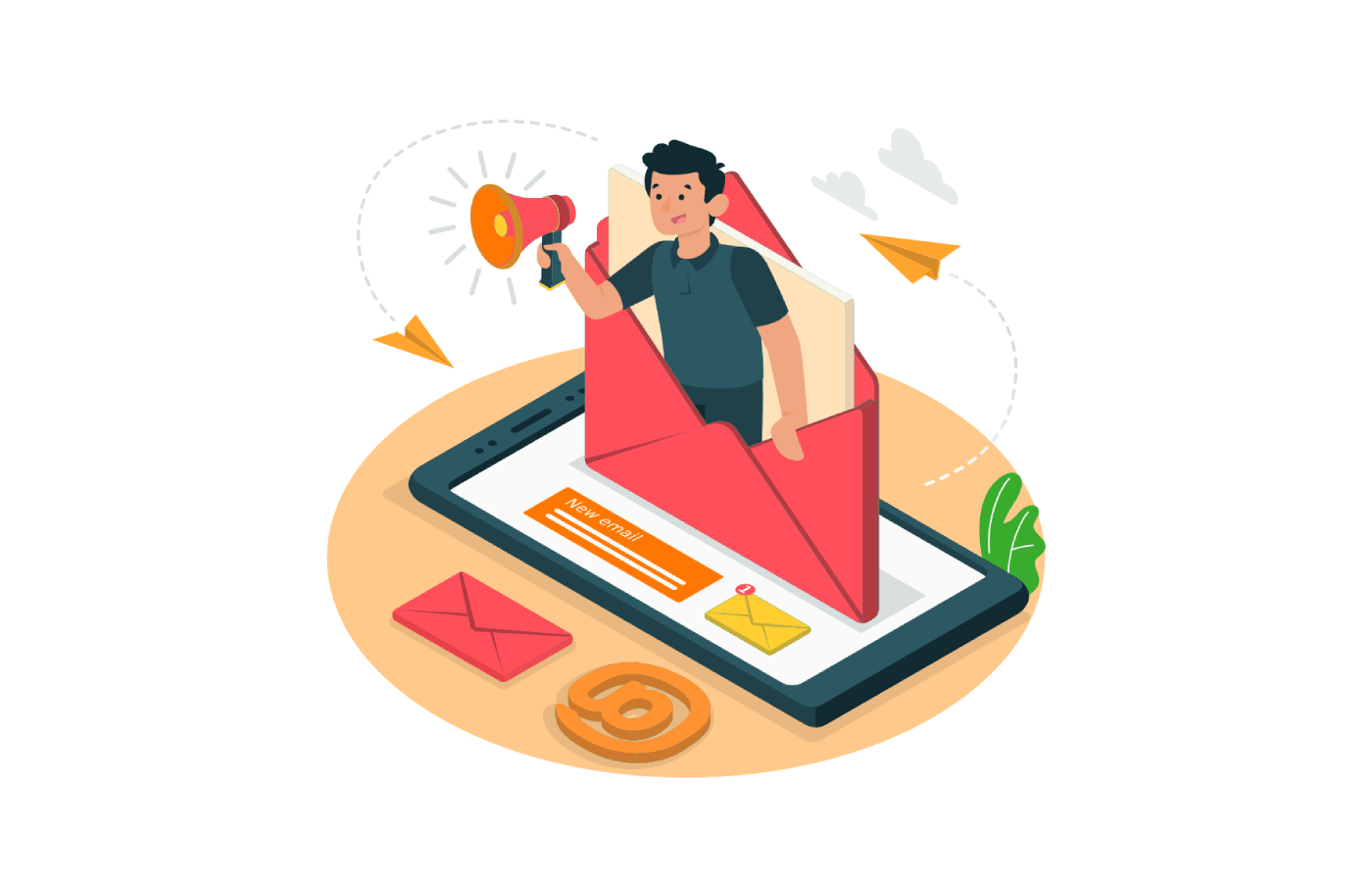 While measuring email marketing metrics, don't forget to look at them cohesively. Each metric helps you to solve the puzzle, contributing to the whole picture. Therefore, you may need to combine several different metrics together to comprehensively understand whether your email marketing is working or not.
Keep Track Of Inactive Subscribers
Your subscribers list is the total of your active and inactive subscribers. In other words, your email list is the non-refined version of your whole subscribers. Therefore, when you send an email, there will be inactive users who will not engage with your emails. To keep track of inactive subscribers, bounce rate is a useful metric to keep an on. With bounce rate, you can understand the percentage of emails that are not received (or not read).
Defining what is inactive for you would be a good start to clean inactive users. This period might change from business to business, but mostly 3, 6, or 9 months are periods that are considered inactive. After you identify inactive users, you need to first try to reengage with them.
There are a lot of ways to winback your inactive subscribers through email:
"We-miss-you" campaigns
Discounts, promo codes, or special offers
Tutorials or guides
Any type of email that is completely different than your usual emails
You should also keep in mind that sometimes no matter how hard you try, there is no way to reengage with all of your inactive subscribers. In this case, the best move to do is to clean your subscribers list. This will help you to have a more targeted audience and a refined list of subscribers.
Make It Personal
Personalization may seem an obvious strategy to nail email marketing; however, most of the time it is overlooked. Compared to non-personalized emails, personalized emails have 29% higher unique open rates and 41% higher unique click rates, indicating personalization is a huge aspect of successful email marketing.
The old strategy for personalization was to mention the name of the recipient, which today is not an effective way to show your subscriber they are treated individually. In addition, spam emails (most of the time fraud emails) are the ones that mention names over and over again. Therefore, emails that are overly emphasizing names today are not a good strategy to implement.
Successful personalized email marketing examples are the ones that are aware of their subscribers' behaviors, needs, and preferences. For example, e-commerce websites can send emails according to past purchase behaviors, proposing a new product that is similar to ones that the subscriber already had bought. This is a safe and effective way to show your subscriber that their email is personalized just for them and you care about their preferences.
Personalized emails nurture the relationship between your customers and your product/service. Therefore the time, effort, and money you spend on personalization will help you to gain the loyalty and trust of your customers. Building that kind of relationship helps you to have an active customer base, increasing your revenue and keeping your old customers satisfied.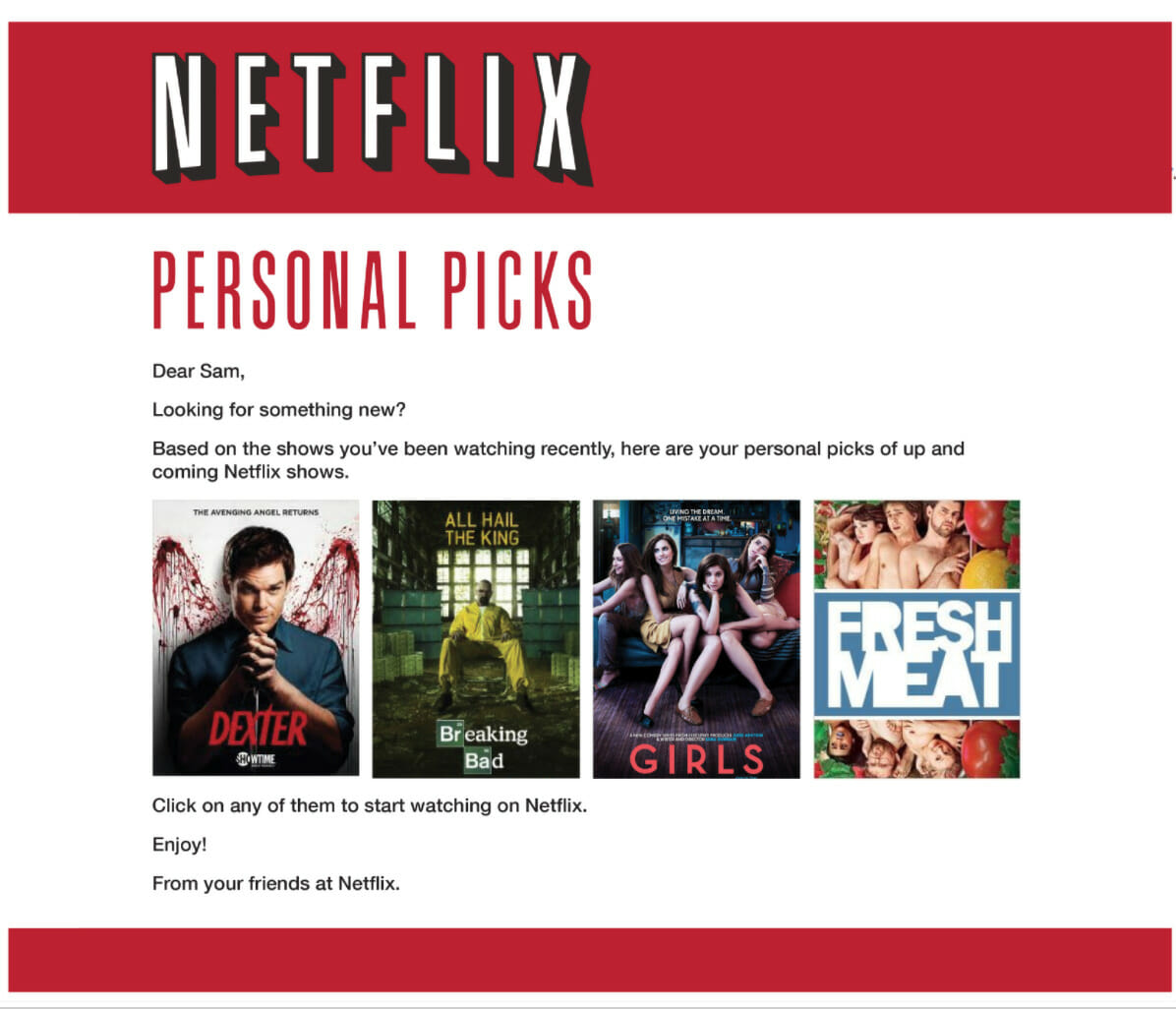 Use Branding In Your Signature
Email signature branding is the easiest, cheapest, and aptest way to promote your brand through email. They create brand awareness, increase engagement with not just your product/service but with your brand, and protect your brand reputation.
To create an email signature branding, you need to be first clear about what your brand's personality is. After deciding, all aspects that build your brand, you need to make sure that all your emails are constructed according to them. It is also important to have a cohesive set of email templates. The question you can ask yourself while creating your email signature branding:
Are all your company email adresses are consistent, clear, and simple?
Which font is your primary, secondary, and tertiary fonr? Does everyone use the same font?
What is your email header? How do you greet your subscribers?
Is there a special ending to your emails?
What aspects of your branding you want to display?
Consistency is key to a powerful email signature branding. If all of your emails cannot be distinguished as part of one whole (your company), it means that your branding is not successful. When your subscriber opens the, he/she should be certain about which brand is the recipient. This will help you with the open rate and click rate and give you an advantage over your competitors.
How to Strategize for Email Marketing: HockeyStack
There is a lot of aspects to consider while building a power email marketing, which each of them needs your careful attention and analysis. The most important part is to measure how much additional revenue email marketing brings to your SaaS. To measure it, you can use HockeyStack.
HockeyStack is an end-to-end analytics tool for SaaS companies. It unifies marketing, revenue, sales, and product data into one dashboard with no code so that you can understand what really drives revenue at your SaaS. It's completely no code, and it doesn't require any setup.
HockeyStack's Features
Step-by-step user journey
HockeyStack allows you to access every single users' whole journey without spending your valuable time on video replays. You can filter your users with every single session and user property, including LTV, job title, goals, segments, clicks, etc.
Custom dashboards
You can build custom dashboards using every revenue, product, sales, and marketing data you have using HockeyStack. We also have a template gallery inside our dashboard to inspire you.
Funnels and goals
An analytics tool cannot be complete without funnels and goals. What makes HockeyStack special is you don't need any coding knowledge to set up your funnels & goals.
Surveys
HockeyStack is really the complete package for your SaaS. You can create visually appealing surveys to get honest feedback from your customers, including churn, NPS, and pricing surveys.
We also have a wide variety of questions types that you can choose from, and surveys are completely free for everyone!
Revenue analytics
By connecting your Paddle/Stripe account with one click, you can use HockeyStack as a revenue analytics tool for free! Setup every single revenue analytics dashboard you need + better understand what affects your revenue.
HockeyStack Pricing
HockeyStack has a free forever plan and 3 paid plans. Paid plans have a 14-day trial with a 30-day refund guarantee.
You can check out the pricing page here.
HockeyStack Integrations
Paddle
Stripe
Hubspot
Mailchimp
Crisp
Salesforce (coming soon)
Zapier (coming soon)
HockeyStack Pros and Cons
I might be biased, but this is an objective evaluation of HockeyStack's pros and cons
HockeyStack Pros
The unique benefit of HockeyStack is its ability to unify your marketing, revenue, sales, and product data using no code. This allows you to uncover unique insights that you wouldn't be able to by using multiple tools as they cause you to have fragmented data.
You can integrate with Stripe, Paddle, and Hubspot and build every single dashboard that you can think of, using all sales, marketing, revenue, and product metrics.
You can create funnels, goals, and surveys, which are rare to get with other tools on this list.
You don't need any developers, tracking is cookieless, and the script is small, so it doesn't increase your site loading time.
HockeyStack Cons
HockeyStack generally lacks reporting features as it's not focused on agencies and other reporting-based businesses.
HockeyStack doesn't have weekly e-mail reports
The tool lacks some integrations, such as Salesforce and Zapier (which are on the roadmap).
Conclusion
Email marketing is one of the most profitable and effective marketing strategies. Therefore, having a powerful email marketing strategy is crucial to keep your old customers, attract new ones, and create loyalty between them and your product/service. To do this, there are several different ways, which all of them are part of the whole.
While building your email marketing strategy, you need to consider what your needs and preferences are, and also, keep in mind who your audience is.
FAQ
Is email marketing still effective in 2022?
Yes, it is. To this day, email marketing has the highest ROI compared to other marketing strategies.
Is email marketing expensive?
Even though there are a lot of aspects to consider and pay for, such as the email service provider, email marketing pays for itself. It even generates the highest profit.