Best SEO Reporting Tools [2021 List]
As a digital marketer, you probably have used tons of different SEO tools, some made you cry over endless reports, and some were delightfully easy to use.
If you are looking for the best SEO reporting tool & software to provide SEO reports and see if you can discover an excellent tool for your SEO reports, you are in the right place.
What Are SEO Reporting Tools?
SEO reporting tools are software that help you increase your rankings and organic traffic with features, such as competitor analysis, backlink reports, technical analysis, etc.
What Should a Great SEO Report Have?
Traffic/Referrers
The most important metric of an SEO report is where the traffic came from, as it will allow you and your SaaS marketing team to double down on specific campaigns to allocate your time and energy better.
Using UTM tags for your marketing campaigns, including those tags, would also help a lot to analyze how well your paid ads do.
SEO Ranking Reports
Another important metric for your SEO report is how well your client's website rank for specific keywords over time.
You can use Google's free search console for SEO rank reporting. Also, using Google Search console, you can compare SEO keyword reports over time to see if you are in the right direction.
Conversion of SEO Traffic
Without conversion, SEO traffic is a vanity metric, so your report must include how well the SEO traffic converts and how the visitors from different channels behave on your client's website.
You can track SEO conversions by manually tagging the CTA buttons on your blog posts with Google Analytics.
Backlinks
Backlinks are essential criteria of domain rating and domain authority.
To track your backlink profile, you can use Ahrefs's free backlink checker, which shows the percentage of your do-follow backlinks, the total number of backlinks, top backlinks, and also domain authority.
Pagespeed Insights
According to Google, fast websites are more likely to outrank slow websites.
If your agency provides some technical SEO services, you must include page speed insights in your SEO report.
You can use Google's page speed tool or Gtmetrix.
Search Traffic Value
Search traffic value metric proves the work you have done. It shows the client how much they needed to pay for paid advertisements to buy the SEO traffic you provided to them.
And here are some self-explanatory metrics:
Number of Organic Keywords
Top landing pages
List of next steps you will take
Month over month comparisons
Google My Business views and reviews
Best Free SEO Reporting Tools To Use in 2021
In this section, I will present you some of the best free tools that offer so much value for free. Most of them have paid features too.
Although most people ignore Bing, it still has excellent SEO traffic potential, and its tool gives a lot of insights, such as keyword reports, keyword research, and crawling data.
With Google's Data Studio, you can connect every source you want to use and create custom dashboards. For example, you can create a dashboard with your SEO traffic and their conversions to see if your content does well in terms of conversion.
If you are not a technical person, though, you will need someone to do the trick for you.
Link Redirect Trace is a browser extension that can give you actionable information about HTTP headers, rel-canonicals, robots.txt, and basic link metrics from LinkResearchTools.
If you are looking for a free tool to help you with on-page technical SEO, you should try Link Redirect Trace.
Alongside its paid version, Screaming Frog also has a free desktop-based crawler. It allows up to 500 pages per crawl, which is an astounding number for a free tool.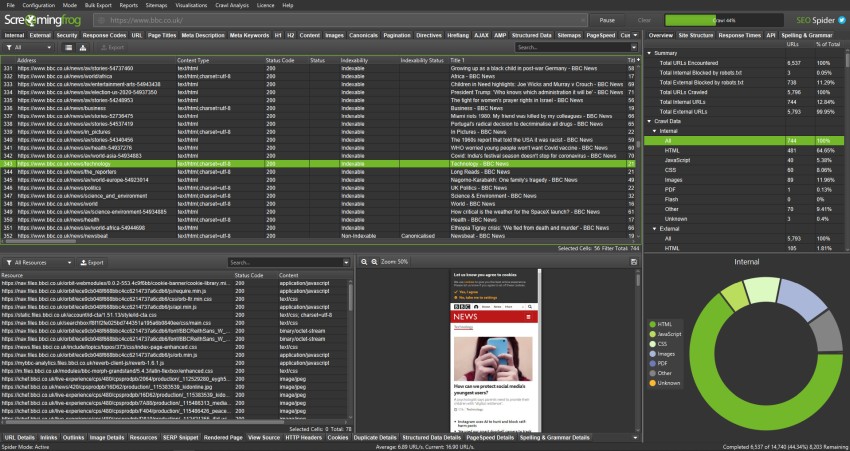 SEO is meant to answer possible leads and do well in SEO; you have to understand what your audience is dying to learn.
Answer the Public does that for free.
Keyword Surfer, similar to Keywords Everywhere, gives you page-based data, such as keyword density, word count, keyword count, etc.
When you search for something on Google, you can see each result's traffic estimate, website traffic, and keyword count right next to the headline.
You can also try WMS Everywhere.
Best Paid SEO Reporting Tools To Use In 2021
Now, it's time for the paid search engine reporting tools.
All the tools from the good old Ahrefs to some tools that you have yet to discover, such as GrowthBar.
Ahrefs is the easiest-to-use and the most used tool, but it is also expensive. With Ahrefs, you can do everything from content gap analysis to finding long-tail keywords that your competitors rank for. They even have a dedicated YouTube video that explains the unique things you can only do with Ahrefs.
When it comes to SEO reporting tools, the essential criteria is accuracy, and Ahrefs has definitely the highest accuracy. Here are all the free tools they offer, which you can use to decide if it's for you.
7-day trial for $7 available.
SEMRush also has excellent accuracy. It is a keyword research and position tracking tool that has proven to be highly valuable in competitor research.
It has various position tracking features, including a competitor's discovery report, devices and locations report, projects merge report, unlimited competitors tracking, and a filter by SERP feature.
7-day free trial available.
Growthbar is an SEO Reporting tool that allows you to track unlimited keywords on its basic plan. (Ahrefs has a 175 keyword/week limit on its $99 plan)
And its unique selling proposition is that it also has an AI writer powered by GPT-3.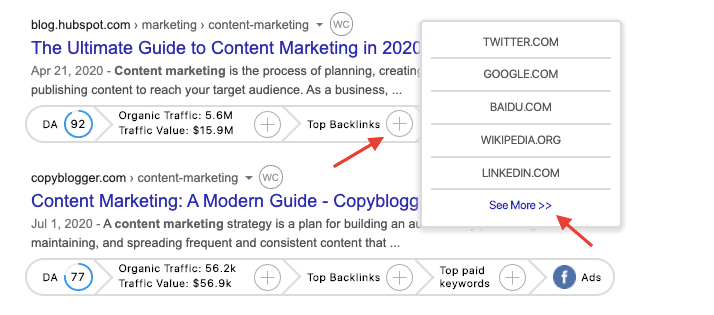 5-day free trial available.
SerpWatch is an SEO reporting tool that can send you messages on Slack if there is a sudden drop or there is a keyword that you should focus on. A central unique selling proposition of SerpWatch is their integrations with tools like Zapier, Asana, Trello, etc.
It also has a beautiful UI, which is not common among SEO tools.
SE Ranking is a powerful white label SEO reporting tool for agencies. It has templates ready for you and a drag-and-drop builder to create the SEO report your clients want to see.
You can create PDFs with your domain and logo. Also, you can invite your clients to the dashboard or share the dashboard with a URL.
14-day free trial available.
Things to Consider Before Buying an SEO Reporting Tool
In this section, I will go over some considerations before buying an SEO tool. Then I will go over some other needs that you would consider before subscribing to other non-SEO tools to scale content marketing for your clients.
Search Engines Needed
Some SEO tools tend to be limited by the market and language they operate in. Thus they may limit you by search engines.
In most English speaking countries, Google is the #1 search engine, but in some countries, it's not.
It is essential to consider whether your client wants to rank in those countries too. For example, the Chinese prefer Baidu, Russians use Yandex, Koreans have Naver, and Seznam is popular in the Czech Republic. If you are targeting one of these regions, you can use Ahrefs and SEMRush as they tend to be the most accurate.
You can also look into tools like Dragon Research, GeoRanker, etc.
An SEO reporting tool is a broad way of describing an SEO software. The tool that you will subscribe to for your agency must align with the services that you offered and promised to your clients.
Thinking about these considerations will also allow you to look for tools that provide them and develop the best tool combination for your agency and clients.
Technical SEO
If your SaaS marketing team have an in-house technical SEO, then you would benefit from a tool with strong technical SEO analysis features.
If you don't have an in-house employee for technical SEO, you can use website crawling feature of an SEO tool to check how well your technical SEO agency/consultant does their job.
Competitor Analysis
Competitor analysis is crucial for SEO, but some established businesses might have already done this, so they may not be looking for this analysis.
If that's the case, you can look for average tools at competitor analysis but excellent at other features.
Analytics
How does your organic traffic behave on your website? Which pages do they view after reading your content? Which buttons do they click on the website? How do visitors from Twitter differ from Facebook visitors?
These are essential factors to analyze so that you can double down on a specific segment for your blog distribution and paid advertisement campaigns.
For these and many other SEO related purposes, you can use HockeyStack.
You can create beautiful surveys for free:
Conversion goal suggestions:
Step-by-step user journeys:
And more.
Content Analysis:
Content analysis will help you uncover which posts get attention, which type of content gets the most engagement, and keep track of your SaaS business's content marketing metrics.
As content is the backbone of your SaaS inbound marketing, you would want to have an SEO reporting tool that has strong content analysis features.
With Ahrefs's Content Explorer feature, you can also build backlinks by creating similar content to the broken links and outreaching to domains linked to those content.
Depending on your goals and use-cases, this feature might be a game-changer for you.
Backlink Building:
You can build backlinks for your clients in various ways- broken link building, blogger/influencer outreach, guest blogging, etc.
As I mentioned in the previous bullet point, you can use Ahrefs's Content Explorer or SEMRush's Topic Research tool, but there are also tools to create outreach campaigns and track backlinks Linkody and BuzzStream.
Lead Generation:
The most important reason why businesses decide to create content is to generate leads for their businesses.
The best method for lead generation is downloadable and attractive content alongside the blog post, such as E-books, PDF guides, etc.
For creating downloadable content, you can use services like Canva, LucidPress, Instatext, etc.
SEO Reporting Tool Recommendations:
If you are willing to pay $99 and more and need an all-in-one analytics tool with top accuracy: 
If you want a free way to create dashboards with your existing data:
If you want to see each search result's estimated traffic, keyword count, word count, etc.:
If you want to search for hundreds of keywords a day and see a beautiful SEO dashboard on your computer:
FAQ:
What is an SEO reporting tool?
SEO reporting tools give an overview of how a website is performing in different search engines. Their focus is typically on backlinks, keyword rankings, and organic traffic. Marketers and agencies use these tools to create SEO reports.
What should a good SEO reporting tool have?
1. Top Accuracy
2. Easy-to-use UX
3. Rank tracking
4. Backlink analysis
5. Content analysis
6. Whitelabel options (for agencies)
How should I choose an SEO tool?
Depending on your needs and the services you promise to offer to your clients, you can choose the best SEO tool for your use case. You can both find free and paid services here.
Which Tools Do I need with an SEO tool?
SEO reporting tools are great as they give so much insight into your organic traffic efforts, but organic traffic alone won't help you much to generate leads. To understand how your organic traffic visitors behave, you need an analytics tool like HockeyStack.