Chargify Alternatives
Trying to track and manage your subscriptions, billings, and cancellations on your own, without getting outside support, is almost impossible. To succeed and grow, you need to find the best subscriptions and billing software. These platforms track data and metrics to help you to analyze and strategize. Some great tools on the market are Chargify, HockeyStack, and Chargebee.
Why you should look for a Chargify Alternative?
Chargify is a billing and subscription tool that tracks subscriptions, expansions, and cancellations for B2B SaaS businesses. It goes beyond the reach of basic and traditional managing platforms by helping businesses to handle complex scenarios. However, even though it is one of the well-known platforms on the market, it is not flawed.
Most customers report that the user experience and user interface of Chargify are not user-friendly. Because the dashboard is hard to understand and use, customers cannot use the features and tools to their fullest potential. Similarly, it is also hard to control your data and manage your reports in Chargify.
It doesn't allow you to record specific data and display them as groups, which causes a problem when you want to slice your data to get more details. Some customers also mention that even though most of the time, API documentation does not cause any trouble, sometimes it is hard to understand or even non-existent.
Overall, since it is pretty expensive ($1,499/month for the standard version), customers think that the service Chargify provides is not completely worth its money.
Trying to track and manage your subscriptions, billings, and cancellations on your own, without getting an outside support, is almost impossible. To succeed and grow, you need to find the best subscriptions and billing software. These platforms track data and metrics to help you to analyze and strategize. Some of the great tools on the market are Chargify, HockeyStack, and Chargebee.
Together, we're going to look at some alternatives you can consider instead of Chargify and help you to choose, which one is better for your product.
HockeyStack
What's HockeyStack?
HockeyStack is an end-to-end analytics tool for SaaS companies. It unifies marketing, revenue, sales, and product data into one dashboard with no code so that you can understand what really drives revenue at your SaaS. It's completely no code, and it doesn't require any setup.
HockeyStack's Features
HockeyStack offers these features with no code:
Step-by-step user journey
Custom dashboards
Funnels and goals
Insights
Surveys
Revenue analytics
Segments
and more
HockeyStack Pricing
HockeyStack has a free forever plan and 3 paid plans. Paid plans have a 14-day trial with a 30-day refund guarantee.
You can check out the pricing page here.
HockeyStack Integrations
Paddle
Stripe
Hubspot
Salesforce (coming soon)
Zapier (coming soon)
HockeyStack Pros and Cons
I might be biased, but this is an objective evaluation of HockeyStack's pros and cons 🙂
HockeyStack Pros
The unique benefit of HockeyStack is its ability to unify your marketing, revenue, sales, and product data using no code. This allows you to uncover unique insights that you wouldn't be able to by using multiple tools as they cause you to have fragmented data.
You can integrate with Stripe, Paddle, and Hubspot and build every single dashboard that you can think of, using all sales, marketing, revenue, and product metrics.
You can create funnels, goals, and surveys, which are rare to get with other tools on this list.
You don't need any developers, tracking is cookieless, and the script is small, so it doesn't increase your site loading time.
HockeyStack Cons
HockeyStack generally lacks reporting features as it's not focused on agencies and other reporting-based businesses.
HockeyStack doesn't have weekly e-mail reports
The tool lacks some integrations, such as Salesforce, Mailchimp, and Zapier. (which are on the roadmap)
ChartMogul
ChartMogul is an analytics tool that helps you to track and manage your subscriptions and billings. By analyzing data from several sources, ChartMogul provides you with concise and simple reports. It enables you to get insights into your customer subscriptions, cancellations, and different revenue metrics.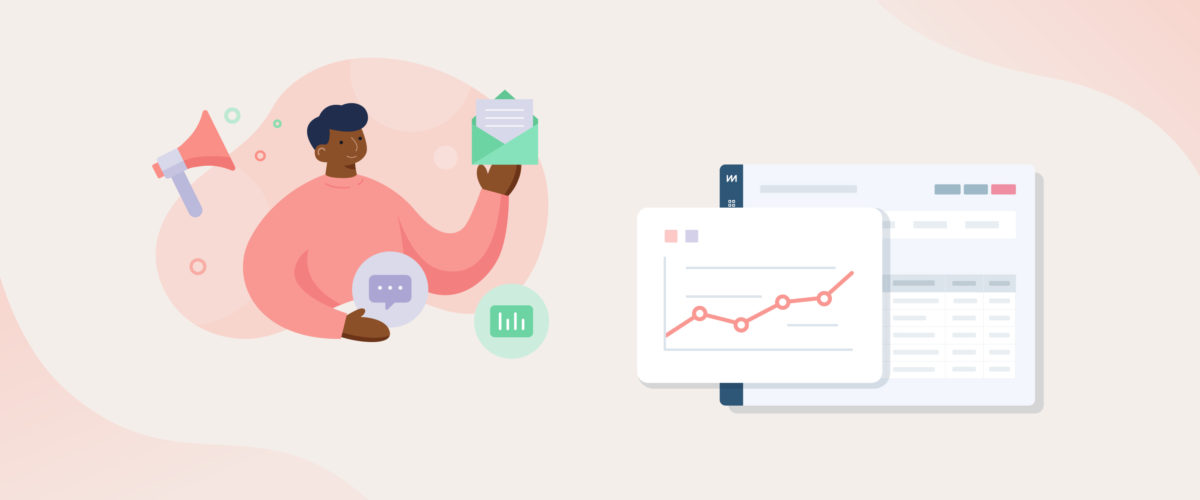 Features
Some features are:
Data Import and Export
Product Support
Reporting and Analytics
Revenue Recognition
Data Editing
Security
Mobile Subscription Analytics
Developer Hub
Integrations
Integrations
Some prominent integrations are:
Stripe
Braintree
PayPal
Google Play
MailChimp
Zapier
Hubspot
Slack
Geckoboard
Pros
User-friendly interface
Tracks customer attribution
Clear graphs and other visuals
Easy to share information among your teams
Native and 3rd party integrations
Files can be downloaded as CSV file to do in-depth analysis
Metrics API enables you to access ChartMogul and manage certain customers
Cons
Hard to reach customer support and delayed answers
Fewer metrics compared to other platforms
Limited search and filtering
Inconsistency with monthly recurring revenue (MRR)
Does not offer 100% integration with some of the sources
Pricing
ChartMogul offers three different price plans according to your MRR: Launch, Scale, and Volume. While Launch is free, Volume starts from $15k/year.
ProfitWell
ProfitWell is another tool that was specially created to track subscriptions and billing to help you with subscription growth. It offers different features for reducing churn rates, recognizing audit-proof revenue, and optimizing subscription pricing. In its dashboard, you can track different metrics to get revenue reporting and reduce cancellations.
Features
Some features are:
Revenue metrics
Retention metrics
Acqusition metrics
Engagement metrics
Enriched Segmentation metrics
Growth metrics
Subscription reporting and analytics
ROI analysis
Pricing software
Integrations
Integrations
Some applications ProfitWell integrates with:
Stripe
Zuora
Chargify
ReCharge
Braintree
Hubspot
Zapier
Pros
User-friendly interface
Offers powerful pricing strategy by its economic experts
Error-free calculations and analysis due to advanced AI and algorithms
Enables the usage of native integrations and ProfitWell Metric API
Offers mobile app both for iOS and Android devices
Secure and complies GDPR
Comprehensive free version
Quick customer support
Cons
Hard to integrate with other applications
Takes time to learn and familiarize yourself with all the features
Tools for accounting and revenue metrics are not as comprehensive as other alternatives
Not helpful with internal reporting
Counts customers who pay once and cancel as churn
You cannot customize your dashboard
Pricing
ProfitWell offers two price plans, which are ProfitWell Metrics and Enterprise. ProfitWell Metrics is a free plan with extensive features and tools. On the other hand, you need to contact a sales representative for the cost of Enterprise (offers customization and more support).
Baremetrics
Baremetrics is a subscription tool that tracks important metrics such as MRR and cash flow to provide daily, weekly, and monthly reports about your business. It monitors customers who are in trial, helps you to get a higher conversion rate, and analyzes each and every customers' payments and history.
Features
Control Center
People Insights
Smart Dashboards
Recover
Forecasting
Email Reports
Trial Insights
Segmentation
Augmentation
Cancellation Insights
Benchmarks
Analytics API
Slack Tools
Integrations
Some prominent integrations:
Slack
Stripe
Braintree
Zoom Chat
Yodeck
Chargify
Chargebee
Slaask
Wufoo
Shift
Pros
Clear and easy-to-understand visuals
Segmentation feature separates your B2B and B2C customers
Easy integration with Slack and easy use of Slack tools for teams
Integrates with important platforms
Offers failed payment recovery tool
Tracks and analyzes important metrics as LTV, MRR, and ASP
Cons
Hard to adapt the tools and features
Need to be aware of what you need to track and look at
Pricing method is not suitable for early-stage startups because it's based on MRR
Not enough distinction between churn and trial customers
Errors in calculations and data presented
Data refreshment time is not optimal
Pricing
Baremetrics offers free trials for all of its four different price plans. The costs range from $179/month to $447/month.
Chargebee
Chargebee is a recurring billing platform that provides services for all sizes of businesses, ranging from solo entrepreneurs to large-scale companies. While it manages every type of subscription and billing, it also prepares detailed reports about them. As your business grows, it offers you different features for your differing financial priorities.
Features
Subscription Management
Recurring Billing
Product & Pricing Models
Checkout & Self Serve Portal
Security & Compliance
Recurring Payments
Revenue Recovery
Globalized Subscriptions
Reporting & Analytics
Integrations
Integrations
Chargebee supports a wide range of integrations, dividing them into support, finance, marketing, reporting and analytics, collaboration, and eCommerce.
Microsoft Dynamics GP
Big Commerce
Google Analytics
Mailchimp
Refersion
Slack
Hubspot
Zoho CMR
Pros
Free plan for early-stage startups
A lot of possible integrations to enhance utility
Availability of self service portal
User-friendly and simple dashboard
Phone and online support
Safe data centers, where your data is protected from MITM and DDOS.
Handles many payment platforms, including PayPal, Stripe, GoCardless, and Amazon payments.
Cons
No free trial (you can ask for a free demo)
Expensive price plans for middle and big-scale businesses.
Cannot be used on mobile
Overwhelming amount of features that is hard to understand how to use
Non-flexible subscription duration
Limited reporting (you cannot see reports by both local and converted currency)
Delayed customer support and inconsistent answers
Pricing
Chargebee offers a free version (Launch) for early-stage start-ups; however, it can be costly for large-scale businesses. On the other hand, it is not the most expensive tool compared to the other billing tools.
Recurly
Recurly is a recurring billing and subscription platform, which manages subscriptions, optimizes payment acceptance, and automates recurring billing operations. Giving it a huge advantage over its competitors in the market, Recurly tracks the whole cycle of your customers from beginning to end. This makes it easier for you to understand conversions and MRR.
Features
Some prominent features:
Subscription Plan Management
Recurring Billing
Recurring Payments
Intelligent Retention
Analytics
Partners and Integrations
Integrations
Some main platforms:
Avalara
Kount
Oracle NetSuite
Amazon Pay
Apple Pay
Braintree
GoCardless
Mailchimp
PayPal Payflow Pro and PayPal Payments Pro
Stripe
Pros
Wide array of native integrations
Detailed and clear subscriber records (renewal info, outstanding debts, etc.)
Intitutive and user-friendly interface
Fast customer support and helpful solutions
Full control over dunning process
Connects with different payment processing networks (Visa, Master Card, AMEX, and Discover)
Ease of scheduling invoices and payments
Alerts customers when they need to update credit card information
Cons
Delayed revenue statistics
Hard to set up and manage Coupon functionality
Does not show single payment invoice detailing the customer's past due payments on a regular basis.
Lacking organization and categorization for reports
Does not show subscription details
Pricing
Recurly offers three different price plans that you can choose according to your business: Core, Professional, and Elite. However, none of the plans is free, and if you are a middle and large-scale company, you need to contact a sales representative for price offerings.
ReCharge
ReCharge is a billing and subscription tool for Shopify products, which aims to turn "transactions into relationships." Because ReCharge covers a wide range of websites (Beauty, Lifestyle, Health, Food & Drink, etc.), it can help you with any type of business without any problems. It also gives flexibility for your customers by offering them the ability to swap subscriptions, edit the subscription renewal dates, and skip renewals.
Features
Some key features:
Subscription billing
Merchant tools
Shopper tools
Analytics dashboards
Payments
Support
Integrations
Integrations
Some examples:
Arpu
Attentive
Google Analytics and Google Autocomplete
Honeycomb
Littledata
Mailchimp
Postscript
Rebundle
ReferralCandy
Zapier
Pros
Easy and quick configuration between Shopify and ReCharge app
Secured payment information
Allows different types of subscription products in the same cart
Relatively user-friendly
Easy management for the admin
Well-organized
Cons
Need to create two different accounts for ReCharge and Shopify; They have different account management areas
Customers have difficulty in logging into their accounts and change recurring orders
Hard to get use to the app and understand the features and tools
Slow customer support (no phone support)
Sometimes glitches occur and app slows down
Pricing
ReCharge is free for the Standard price plan, and $300/month for the Pro price plan.
Zuora
Zuora is a cloud-based software that provides insights into your company to easily and successfully become a subscription business. Zuora aims to solve complex problems of ERP, which traditional ERP platforms cannot solve: subscription billing, quoting, payments, billing, orders, and renewals.
Feature
Key applications:
Zuora Billing
Zuora Collect
Zuora Revenue
Zuora Central Platform
Zuora CPQ
Integrations
Some examples:
Accenture
IBM
RedFast
Zephr
NetSuite
MasterCard
Stripe
Amazon Pay
Apple Pay
PayPal
GoCardless
Pros
Supports direct debit options across the world
Offers training
The Workflow Collection add-on saves time for collections automation
Easy and clear system reporting
Manages revenue recognition per ASC
Personalized and customer-specific bills
Organized and user-friendly interface
Cons
Takes long time to implement and integrate
Each application costs separately
Custom pricing system; nontransparent pricing system
Requires time to understand how to create reports you need
A lot of tedious steps to go through to give a command
Limitation of uncommon invoicing structures
Pricing
Zuora offers custom price plans according to your business's scale. You need to contact a sales representative for more information.
SaaSOptics
SaaSOptics is another subscription management platform that helps you with subscription billing, revenue recognition, and analytics. It automates financial operations for your B2B SaaS businesses and enables you to quickly get accurate SaaS metrics and analytics. Because it doesn't depend on spreadsheets and common financial operations, it gives a great advantage over its competitors.
Check out all SaaSOptics alternatives!
Features
Core features:
Order Management
Revenue Recognition
Billing & Invoices
Payments
Customers & Renewals
Financial Reporting
SaaS Metrics & Analytics
Integrations
Some important integrations:
Salesforce
Hubspot
Pipedrive
Oracle NetSuite
Xero
Stripe
Avalara
Pros
Comprehensive collections tool
Easy to understand reports; concise and clear information
Excellent customer support
Flexible contract management
Organized and user-friendly interface
Robust and highly configurable revenue recognition
Cons
Limitations to control you have over reports, customization, and file types
Difficult to customize and organize the dashboard for your own preferences
Autopay is controlled at the customer level
Error in transitions between SaaSOptics and other platforms
Heavy on manual labor
Pricing
You need to contact a sales representative for price plans.
Conclusion
It is crucial for your business to track its subscriptions and billing processes to offer the best service to your customers. Even though Chargify offers a lot of features to track and analyze data, it has some limitations. Therefore, looking for other alternatives according to what you expect from a platform can be beneficial for your business's future and success. There is no definite answer to which platform you should choose; however, you can compare alternatives to find the best one that suits your needs.
FAQ
What is subscription billing software?
Subscription billing software manages recurring billing, subscriptions, and cancellations for businesses that provide subscription-based services and products.
How much does Chargify cost?
Chargify offers four different price plans: Essential, Standard, Specialized, and Custom. The price plans start from $599/month (Essential) and increase up to$3,499/month (Specialized). For the Custom plan, you need to contact a sales representative.
Subscribe to the The Flow's weekly issues
Sharing everything we know about growth, with real playbooks we use, interviews with top growth leaders, and research & opinion pieces.