Ultimate Guide To Customer Onboarding: Tips, Tricks, and Metrics
Customer onboarding is one of the most crucial stages of the customer lifecycle. It sets up the tone of the relationship between you and your customers. You can think of customer onboarding as the stage that you make the first impression, reassure your customer about your product, and ensure that your customers know what your product is.
Purchasing a product does not guarantee that your customers will continue to use it. Therefore, to keep your new customers, you need to bring your A-game to your customer onboarding. If you can nail the customer onboarding stage, it will set you up for success and prevent your customers question why they purchased your product in the first place.
The customer onboarding process consists of several different steps and tools, which help you to give the best first impression. You need to find the perfect combination of these tools and create your own customer onboarding plan according to your product's and customers' needs.
What is Customer Onboarding?
Customer onboarding is the process that consists of the first few stages of the customer lifecycle: purchasing, signing up and using the product/service for the first time. In simple words, it enables you to connect with your customers as soon as possible after their purchase and helps you to deliver the value of your product without your customers starting to question your product's worth.
With customer onboarding, you show and prepare your customers for what they will encounter in the future. It is like giving a sneak peek at all the advantages that your product/service will provide for them. If your customer onboarding is not flawless, it is inevitable to lose your customers.
Why Is Customer Onboarding Important for SaaS?
Customer onboarding is very important for SaaS businesses because it is the step that keeps your new customers and helps them proceed to the next stages of their customer lifecycle. It is especially crucial to make your product/service a part of their daily routine.
You wouldn't want your customers to use your product just once and then churn. Therefore, with customer onboarding, your ultimate goal is to ensure that your customers always come back to your product. You need to provide your customers with something that they cannot resist so they cannot leave your product/service.
Integral Elements of Customer Onboarding
A good customer onboarding process is one that is engaging, helpful, and self-explanatory. Don't forget that your customers will not give their whole time trying to understand the value and advantages that they will get out of your product. Therefore, having a customer onboarding process that is clear and simple, but appealing, is the best way that you can keep your customers.
While you are planning the best strategy for customer onboarding, there are steps and tools that you need to keep in mind. These will help you give the best first impression and help your customers to have the best customer onboarding journey.
Welcome Email
Welcome emails are the first touchpoint between you and your customers after their purchase. In other words, they are the first dates of SaaS businesses. They enable you to communicate directly with your customers without losing time. By sending welcome emails, you ensure that your customers know what your product is, how they can use it, and how they can benefit from it.
A good welcome email should be engaging and celebratory because you need to show your customers that you appreciate and are grateful for their purchases. However, these emails also should be precise, concise, and clear. The ones with distracting visuals or complex sentences will divide your customer's attention, prevent you from conveying your message.
By using different email marketing metrics, you can easily track your email marketing and make improvements to it. Seeing your strengths and weaknesses will help you write and execute better emails.
Onboarding Email Sequence
The next step for successful onboarding should be engaging with your customers regularly. A quick and easy way to do it is an effective onboarding email sequence. These emails are great tools to communicate with your customers, helping you to directly tell what you want your customers to do: complete their sign-up, learn about the new features, update their account, check their subscription, etc. However, emails that are sent irregularly cannot help you in the long term.
To have a successful onboarding, you need to constantly (don't overdo it) remind your customer that you are just one email away. In this way, you can be in control of the onboarding stage and set your customers up for success.
Treating your active and passive customers differently is also important to create the best onboarding email sequence. Since the actions that you want your customers to take and messages you want to convey differs from customer to customer, you need to act according to their needs. For example, for active users, you might send a second email about the features of the product. However, for a passive user, you might send an email about how to login into their accounts. By keeping in my the patterns and behaviors of customers, you can create engaging email sequences.
Onboarding Guides
Onboarding guides assist your customers during the signing-up process. After the purchase, it is crucial for your customers to proceed to the signup to get be part of the product/service. Therefore, the onboarding guides should be simple and easy. They should be direct to the point without confusing the customer on what to do. Similarly, the steps should be short and concise, only focusing on important aspects of that step. In this way, you can quickly help your customers to proceed in their lifecycles.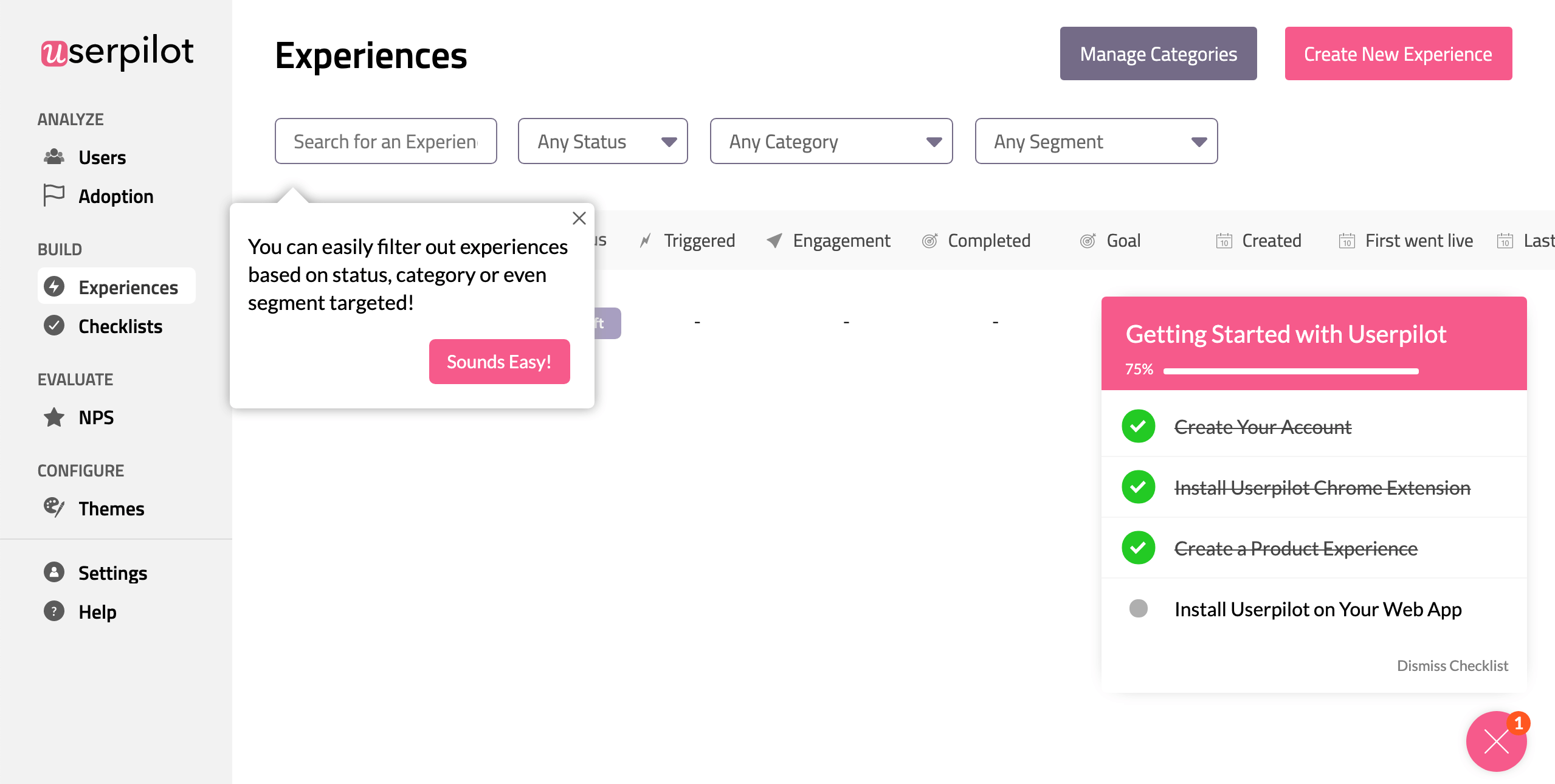 Product Tutorials
Product tutorials are the tools that help your customers to have a smooth and easy integration with your product. Customers tend to stop using the product that they need to spend a lot of time and effort to understand and learn. Therefore, providing a product tutorial after their sign-up is crucial to keep your customers.
Product tutorials should be easy to understand and follow. Since you want your customers to not have a hard time, you need to make a product tutorial that only focuses on your most important features and tools. Overbearing product tutorials with unnecessary information can cause the opposite effect of engaging your customers.
Documentation
Documentation is the section where you display the answers to common questions or problems. Here, you don't offer personal help, but you try to provide the quickest answer to your customers' problems. This section should give the best resources to your customers to troubleshoot without reaching customer support. In this way, without losing their precious time, your customers can find solutions. Providing this space helps you to address problems before your customers leave your product (before it is too late).
How to Measure Customer Onboarding?
It is important to know the tools that you can use for a successful customer onboarding strategy. However, without measuring the effectiveness of your customer onboarding, you cannot determine your strengths and weaknesses.
To measure it, you need to be familiar with different metrics, each of them contributing to a comprehensive understanding of your customer onboarding.
Here are some key metrics that will help you to track and analyze your customer onboarding:
Customer Lifetime Value – CLTV
Cusromer Retention
Conversion Rate
Time to Value – TTV
Onboarding Revenue
Onboarding Process Completion Rate
Customer Call Drop-Offs
Total Contract Value – TCV
Feature Adoption Rates
Active User Count
Session Time or Length
By combining these metrics together, you can easily detect your weaknesses and strategize accordingly. Without these metrics, your customer onboarding will be similar to walking in the dark. Therefore, you need to be using the best customer onboarding tool to have a successful onboarding.
Best Customer Onboarding Tools To Use
We've talked about the aspects you need to pay attention to have a successful customer onboarding and the way you can track it. To do all of these, you need to have a comprehensive and powerful tool that will help you to track, analyze, and understand your customer onboarding and how your customers are responding to it. To choose the best one, you need to consider your needs and preferences while also keeping an eye on what your customers' needs are. This way, you can benefit from the tool better.
HockeyStack
With HockeyStack you can easily measure how much revenue do your onboarding emails, responses to customer support tickets, documentation, and every other aspect of your strategy bring.
What's HockeyStack?
HockeyStack is an end-to-end analytics tool for SaaS companies. It unifies marketing, revenue, sales, and product data into one dashboard with no code so that you can understand what really drives revenue at your SaaS. It's completely no code, and it doesn't require any setup.
HockeyStack's Features
HockeyStack offers these features with no code:
Step-by-step user journey
Custom dashboards
Funnels and goals
Insights
Surveys
Revenue analytics
Segments
and more
HockeyStack Pricing
HockeyStack has a free forever plan and 3 paid plans. Paid plans have a 14-day trial with a 30-day refund guarantee.
You can check out the pricing page here.
HockeyStack Integrations
Paddle
Stripe
Hubspot
Mailchimp
Crisp
Salesforce (coming soon)
Zapier (coming soon)
HockeyStack Summary
The unique benefit of HockeyStack is its ability to unify your marketing, revenue, sales, and product data using no code. This allows you to uncover unique insights that you wouldn't be able to by using multiple tools as they cause you to have fragmented data.
You can integrate with Stripe, Paddle, and Hubspot and build every single dashboard that you can think of, using all sales, marketing, revenue, and product metrics.
You can create funnels, goals, and surveys, which are rare to get with other tools on this list.
You don't need any developers, tracking is cookieless, and the script is small, so it doesn't increase your site loading time
UserPilot
UserPilot is a tool that helps customer success teams to analyze and understand customer patterns and behaviors to increase user adaptation. It enables you to identify problems in your customer onboarding through behavior-driven product experiences. With UserPilot, you can easily track new signups and provide useful tips to your customers to proceed with them in their lifecycles. Since it is a no-code tool, it is also very easy to learn and understand the tool.
With UserPilot you can track users & accounts, events, and user segmentation.
UserGuiding
UserGuiding is a digital adaptation tool that helps you to provide better in-app experiences to increase your customer onboarding. With UserGuiding, you can easily create and track user journeys, which helps you identify in which part of your product you lose your customers. It does not require you to have coding knowledge. Therefore, after subscribing to the tool, you can easily start tracking important metrics for customer onboarding.
With UserGuiding you can create Interactive Product Tours, Tooltips and Hotspots, Tooltips and Hotspots, User Onboarding Checklists, Resource Centers, NPS Surveys, and custom user segments.
Pendo
Pendo is a web analytics tool that helps businesses to achieve successful digital adaptation and user engagement. It is both a great tool for customer onboarding and other aspects of SaaS businesses. Therefore, if you want to have a tool that does not only tracks metrics about customer onboarding, choosing Pendo would be a wise decision.
With Pendo, you can track customer behaviors, customer activity, retention, upselling, cross-selling, and many more features.
SendGrid (for onboarding emails)
SendGrid is a trusted email delivery platform, which gives you assistance in email marketing. By helping its customers to send effective emails, track customer behaviors, and complete successful customer onboarding, SendGrid enables its customers to use their time for scaling.
SendGrid's integration tools and API helps you to easily and smoothly integrate, which is an advantage if your product depends on outside integrations.
MailChimp (for onboarding emails)
MailChimp is one of the most popular email marketing tools in the market. However, it is more than that: MailChimp, today, is becoming a full marketing platform, offering its customers landing pages, automation, social media scheduling, etc.
MailChimp is a user-friendly and simple tool, which is why it's preferred by all types of customers. It is a great tool to track and analyze customers relationships and your online marketing strategies.
As an email marketing platform, MailChimp helps you to send the right messages at the right time in the right place, which enables you to connect with your customers without losing time.
Document360 (for documentation)
Document360 is one of the leading knowledgebase platforms in the market. Helping its customers build a self-service knowledge base, Document360 enables you to quickly identify problems and offer solutions.
Document360 contains a built-in editor, which almost does everything for you, saving you time and effort. With the built-in editor, you can easily share code snippets, upload screenshots, and include links to articles.
It is a versatile, user-friendly, and highly customizable tool that can be adapted by any type of business.
Conclusion
Customer onboarding is an important process that you need to carefully treat. Done well, customer onboarding can help you to create a loyal customer base, identify problems in your online marketing, and enhance how you communicate with your customers. On the other hand, poor customer onboarding can cause you to lose customers and disadvantage you in the market.
To have a powerful customer onboarding, you need to focus on customer marketing. In other words, you need to put your customers in the center of your product/service. By analyzing their needs and preferences, you can create a great customer onboarding process and experience. This will help you to keep your customers and gain new ones.
There are a lot of tools to create customer onboarding, but to know which ones are more effective for your business, you should track and analyze some metrics. Therefore, finding a web analytics tool will, in the long term, help you a lot. While you are choosing a tool to measure customer onboarding, you should think about your business size, what is important to you, and what are your customers' needs.
FAQ
What is customer onboarding?
Customer onboarding is the process in which your customers go through to sign up and set up your product. In other words, it represents the first few stages of a customer's lifecycle.
What is TTV?
TTV is the abbreviation for Time to Value. It measures the time it takes a new customer to realize and understand the value of your product. The low TTV indicates that you are clearly conveying the message you want to convey while high TTV shows you that your customers cannot understand what your product provides for them.
How much MailChimp cost?
MailChimp offers four different price plans according to the number of contacts: Free, Essentials, Standard, and Premium. While the Free plan costs nothing, the Essentials plan is $9, the Standard plan is $14, and the Premium plan is $299.