Best 15 Customer Success Email Templates For SaaS
Email marketing has an average ROI of $38 for every dollar spent on it. This means that this form of marketing can have a 3800% return on investment–if it's used correctly. Since email marketing has such high return rates, it's one of the most useful tools for SaaS businesses that want to increase customer success.
Keep reading to learn more about customer success, emails used for its purposes, and customer success email templates that'll inspire you.
What is Customer Success About?
Customer success is a business strategy. Its goal is to ensure that your customers are getting the most out of your products and services. It also aims to:
Maintain customer loyalty and decrease churn,
Make sure that custmers understand your business's products and services and make the best use of them,
Upsell existing customers by promoting upgrades or new features,
Solve customers' challenges before they come up with meaningful content.
Customer success can be measured with metrics that are also used for content marketing: CLV and CRR to name a few. Customer success platforms can help you measure these metrics and make adjustments to your strategy.
What are Customer Success Emails?
Email marketing is one of the most valuable techniques when it comes to customer success. Emails directly reach your customers, and, if engaging enough, they can lead them to meaningful content. This content can then educate them, answer their questions, and even convince them to upgrade to a higher version. The email itself may also serve to increase loyalty by making customers feel valuable. However, all of this can serve your customer success strategy if your emails keep the reader's attention.
There are a few types of emails that can be used for customer success purposes. Here are some of them:
Welcome emails: These emails are useful for new subscribers who haven't yet engaged with your products. They show that your brand cares about its customers from day one, which increases retention and customer satisfaction.
Win-Back emails: If your subscribers have stopped engaging with the content you're sending, or if they've stopped buying from you, these emails can win them back. A desired action here would be signing up for another free trial, or simply clicking on a CTA.
Newsletter emails: Newsletter emails are good to show your customers new features or content. These emails may lead to customers becoming more interested in your inbound marketing content.
There are other types of emails and various customer success email templates mentioned in this post as well. Keep reading to learn more about them.
1. Xero's Welcome Email
A cloud-based accounting software, Xero's welcome email is successful for a few reasons:
It specifically points out the longevity of the free trial. The readers know that they have 30 days to make a decision, which urges them to use the product to the full extent during the trial.
This customer success email is sent to free trial users. These users have imported data, and connected (or will connect) their banks to the software. These all required time and effort on the users' part. Once they've put in such an effort, they're likely to just buy the product since they've gotten used to using it. That's why the CTAs are so important. The "Buy Xero now" option reminds the reader that they could take the plunge right away.
It shows customers that Xero has already thought of their possible problems: the link to the landing page proves this.
A good welcome email like this increases customer retention and engagement.
2. Raven Tools' "Quick Win" Email
Raven is an SEO reporting tool with a variety of different features. New customers often have a hard time while they get to know the tool, and the customer success manager at Raven understands this. To show that they care about their customers, Raven gives them access to free training sessions which will help them maneuver their way through the product.
This is valuable since customer onboarding is crucial for SaaS: you can reduce churn by up to 67% if you address their issues in the first interactions.
Raven also makes signing up for these sessions sound easy by using keywords and phrases like "free, live," "ask any questions," and "variety of class times to accommodate you." They even add the option to send a recording of the meeting after it's over. This makes it likely for customers to engage with the email and sign-up, and once they start engaging, they're inclined to keep doing so in the future.
3. SEMRush's Welcome Back Email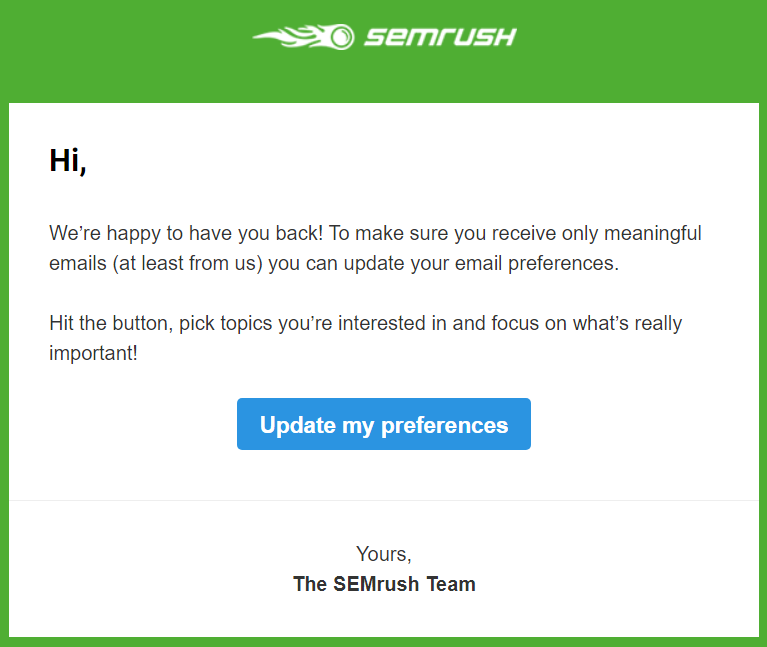 Customization is one of the key aspects of SaaS marketing, especially inbound marketing. SEMRush, another SEO software, lets users select the emails they want to receive with their welcome back email. This customer email is concise and to the point with no unnecessary information. It makes engagement easier just like Raven's email did: you simply have to click the button, pick topics, and then you are ready to go.
Once customers have selected their preferences, increasing their engagement is easier as well. Since they actually want to see the content in their emails, SEMRush doesn't have to put extra time and effort into getting their attention. Possible content includes product information, events, industry news, and more informative emails.
Note that concision is a common theme that'll be in this article. This is because there's a sweet spot when it comes to successful emails, and having the right amount of text will increase the engagement you'll get for your emails.
4. 9 Clouds' Win-Back Email
Sad puppies are often used in win-back emails, so the distinguishing factor isn't really the photo. It is the tone that 9 Clouds, a digital marketing agency for auto dealers, uses. An empathetic tone, telling customers that you "get it," and that you "don't blame them" is a good start (and it's honest since you're to blame for not sending out engaging emails.)
Another nice aspect is the list of reasons that 9 Cloud gave. When it comes to inactive subscribers, one of the most effective win-back techniques is to remind customers why they signed up in the first place. Finally, the title: asking a question like "Do you still want to hear from us?" increases the number of responses you'll get.
5. Help Scout's Campaign Email
It's assumed that the lead signed up for a free trial, used the tool, and didn't become a customer. In this case, giving the lead another free trial could get them used to the tool enough to make them buy it. It can increase customer success by making sure that leads get the most out of their trials so that they can become repeat customers. However, such an offer may not always be the most profitable.
Either way, Help Scout's email works. This is because:
It makes use of a quote from a real person, giving the product credibility,
It has a simple CTA and the offer is easy to accept.
It gives the customer a long time to try out the product again.
If you want proof of its success, just know that this customer success email turned Vero into a Help Scout customer.
6. SumAll's Welcome Email
Another successful SaaS welcome email is this customer success email from SumAll, which is an analytics software for social media and advertisement campaigns. These types of welcome emails help customers move to the next step faster. In this email, SumAll invites users to connect their customer success platforms to the tool. This will enable SumAll to collect data and create value for customers. In return, customers will see reasons to continue using this software.
The focused, concise text and clear, contrasting CTA button also catch the eye. Even if the reader skipped the text, they would notice the button and understand what the email is about.
7. HelloSign's Thank You Email
If your SaaS product is fairly simple to use, you may not have a free trial and customers may end up directly buying your product. In this case, you can send a straightforward thank you email to your customers as HelloSign did. Their email features a CTA calling for users to start using the product now. HelloSign can say that because the electronic signature software doesn't have a complex onboarding process. If it did, the CTA would have to be something along the lines of "Connect your…" or "Fill in your … information."
Also, the short note on customer service is a nice finishing touch.
8. Elegant Theme's Newsletter Email
The first things that catch your attention with this customer success email are the color scheme and illustrations. They're consistent with Elegant Themes' branding. You would definitely trust the themes made by a brand that has aesthetically pleasing email templates.
While advertising your blog posts in your email newsletter, it's important to give a small peek at the content. Too long, and the readers either won't read it or won't click on the blog post; too short, and they won't be hooked to read the rest.
Also, there are two CTAs, one at the beginning of the email and one at the end. This ensures that customers have a chance to engage with the email even if they don't read it.
9. Headspace's Promotional Email
Headspace, a meditation software/app, is a familiar name when it comes to successful email marketing and customer success email templates. With colorful, simple designs and concise text, Headspace's email immediately catches the reader's attention. The colors of the CTA, the illustration, and the Headspace logo are all consistent, and the offer is explained simply with the expiry date below to instill a sense of urgency in the reader.
Overall, this customer success email has all the elements of a good customer success email. It will lead to customers clicking onto the CTA, landing on the promotion sign-up page, and filling in their information: all the events that Headspace would aim for.
10. Spotify's Update Email
Spotify, a music streaming platform, is known for its Release Radar. By keeping track of customer behavior and data, Spotify creates customized playlists and sends notifications about new releases from customers' favorite artists. These new playlists are then announced via these update emails. Since the emails are customized, they are great to increase customer engagement. They are also informative and keep customers up-to-date with the music industry.
The CTA and the colors, similar to other emails, are consistent with Spotify's branding as well.
11. Trello's Win-back Email
Trello is a web-based list-making software. Its win-back email makes use of sarcasm and humor, which is useful if it fits with your brand's personality. The email reminds the reader that using the software is free and easy, and it also leaves the link to a how-to guide to make things easier for inactive subscribers.
Notice that there are no illustrations or imagery. Just plain text with a brand logo and CTA. If you trust the title of your email and its content, this may be all it takes.
12. SuperOffice's Newsletter Email
Making your content accessible is an important factor. If one of your customer success goals is to increase the productivity of your content marketing strategy, then you may use CTAs that point out your "free" guide and give a step-by-step explanation to show readers how easy it is to use this guide. That's what SuperOffice, a B2B CRM solution, does in its newsletter email.
By driving customers towards valuable content, you are leaving a good impression, one that makes you seem like a knowledgeable and helpful source as a brand.
13. HubSpot's Newsletter Email
Webinars can provide customers with valuable information regarding your product and brand, but getting them to hear about the webinar and to sign up is the real struggle. Emails like this one from HubSpot, a SaaS analytics software, can be effective if you want to increase participation in your events. This customer success email works because:
It defines the problem addressed by the webinar clearly,
It has a clear CTA with key words like "reserve" and "now," implying urgency and importance,
It makes use of a list of reasons why the webinar will be useful for the customers.
Since webinars take up a substantial time from customers' busy schedules, it's important that you give them concrete reasons as HubSpot did in this email.
14. Trint's Upgrade Email
Trint is a transcription software made especially for freelance writers. By congratulating writers on their achievements, the number of times they've used the software to transcribe a text, Trint aims to upsell its products. Simply showing off features is sometimes not enough, so using compliments and flattery can pull the right strings. Especially when these writers, who were looking to save time and money in the first place, can save more than $200 in a year.
15. Litmus's Campaign Email
Separating your email from all the others in customers' mailboxes is hard. However, using gifs and animations like Litmus did in this campaign email may get you more attention than all the other static emails. The movement is subtle and it doesn't overcomplicate the email, which is good.
The color scheme of the email, simple designs, and concise, informative text about the new feature makes this customer success email effective.
How To Measure Customer Success's Effect On Revenue
If you are investing in customer success, then you would want to understand how it translates into revenue.
Do your customer success email sequences lead to MRR expansions? Which plan's users require the highest time from your customer success manager? Does live chat help you increase revenue faster?
You can answer all these questions and more using HockeyStack.
HockeyStack is an end-to-end analytics tool for SaaS companies. You can track and analyze data from the product, sales, subscription revenue, and marketing in one tool and get access to hidden insights, such as the LTV of a piece of content, or the churn rate of each marketing channel along with users' reasons for churn.
Conclusion
In summary, customer success is about maintaining the loyalty and interest of your customers. It aims to increase customer retention and satisfaction. Customer success emails cater to these needs by containing or leading customers to meaningful content. This content may be a landing page that explains a new feature, it may be a how-to guide for new users, or it may be a form that gets more information from the customer so that your brand can personalize their ads.
In order for these customer success email templates to work, you have to be careful about a few things:
Don't have too much text. If you do, it's easy to lose the interest of the reader, and they won't reach the CTA button or link.
Make use of animations and designs if needed, but don't make the email too complex and crowded.
Use humor, flattery and personalization as needed.
Make the designs of your emails consistent with your brand's design.
It's also a good idea to see the emails that you've liked the most from above and to copy their styles if it resonates with your brand and your customer success strategy.
What is customer success?
Customer success is defined as the moments that customers achieve their desired outcome with the help of your team.
Why is customer success important for SaaS companies?
Customer success is important for SaaS companies as although most businesses have proper documentation and guides available for their users, customers will still face problems that they cannot understand or solve using documentation. If there is no customer success team available for them, they will churn and use a product that has a better team available to them.
Subscribe to the The Flow's weekly issues
Sharing everything we know about growth, with real playbooks we use, interviews with top growth leaders, and research & opinion pieces.