Top Inbound Marketing Tools & Platforms for 2022
Inbound marketing's effectiveness cannot be debated at this point: this marketing technique generates three times the leads per dollar compared to traditional marketing methods. However, you'll only see the results if you're using the correct strategies and the correct tools.
There are various musts of inbound marketing: the first is to optimize your sites and platforms to attract users and to keep them engaged, the second is to create meaningful and targeted content that'll rank better than your competition and to distribute said content, and the last (but perhaps the most important) is to measure the performance of all of your efforts.
It's impossible to follow the guide without some help from good marketing tools. Below is a list of tools we recommend that'll save you time and effort while you're trying to perfect your inbound marketing strategies.
Inbound Marketing Tools For Site Analytics
How well are your landing pages doing at keeping customers engaged? Who's spending the most time on your sites, and who's leaving as soon as they enter? Where are your visitors coming from? These are all questions you need to answer in order to maximize the performance of your sites so that they generate more demand and attract more qualified leads. The tools below are made to answer all of these questions.
Price: Free
Capterra Rating: 4.7/5
Google Analytics is one of the most popular website analytics tools, providing users with acquisition reports and enabling them to study visitor behavior. It's also possible to do an internal site search analysis with Google Analytics to see what users are looking for on your site. Data is collected automatically and can be accessed immediately via Google Docs or Spreadsheets.
Price: Try for free! Upgrades start from 99$/month.
Capterra Rating: 4.9/5
HockeyStack is a great tool for inbound marketing if you want to use your data effectively and optimize your web page. With Hockeystack, you can analyze user journeys, track questions that are asked by visitors, get recommendations from them, and use automated insights to get an overall view of your site with ease. Also, by creating conversion goals at any step of your analysis, you're able to work on your site's performance with purpose.
Price: Starts from 45$/month
Capterra Rating: 4.5/5
HubSpot's traffic analysis tool analyzes traffic by source, topic cluster, device type, country, and various other categories. The brand's site analytics tools also make it possible for you to analyze all key metrics such as bounce, exit and conversion rates, and CTA views. HubSpot is especially useful for your inbound marketing strategies if your brand's goal is to generate inbound leads.
Price: Plans start from 349$/month
Capterra Rating: 4.3/5
Woopra is one of the most expensive site analytics tools on this article, but the extremely detailed and personalized reports make it worth its price. With an entire pane that shows live visitor stats, this tool has a real advantage in real-time tracking as well. There's also the ability to chat with customers as they're on your page (and to get real-time feedback.) Their analytics tools offer tracking on both web and mobile properties, and they collect data from various sources to provide a detailed overview of your site as a whole.
Price: Provided on request
Capterra Rating: 4.4/5
Often used as an alternative to Google Analytics, Adobe Analytics emphasizes its use of machine learning and predictive algorithms, which includes original features such as the ability to detect any anomalies in your data. The customer data provided by their tool includes cross-channel analysis and segmentation. This tool is also great at breaking down and grouping website data in various forms.
6. Kissmetrics
Price: Plans start from 299$/month
Capterra Rating: 4.3/5
Kissmetrics is perfect if you want to know the who's of your data rather than the what's. This site analytics tool collects data much more accurately than many other tools: for instance, while other tools may record entries from different devices as separate users, Kissmetrics can report the devices belonging to a single person as one user. Like Woopra, Kissmetrics provides real-time reports, and it also tracks the interactions visitors have with your site.
Check out Kissmetrics alternatives!
Inbound Marketing Tools For Content Marketing
Content Marketing is a crucial part of inbound marketing: targeted and engaging content is what makes your brand memorable. The tools below are made to help you find keywords and topics for your content and to help you distribute it on the right channels.
Price: Free plan available. Paid plans start from 10$/month
Capterra Rating: 4.6/5
Sender is an email marketing software for businesses to send automatic emails & SMSes and drive more revenue. It's easy to use, has full email marketing features, and is quite affordable. Sender has everything you need for effective email marketing for a fraction of the cost of other email marketing providers. On top of that, you can use its native integrations to connect your WordPress, Magento, WooCommerce, PrestaShop, or other platforms to send highly converting newsletters to your audience.
Price: Plans start from 99$/month
Capterra Rating: 4.5/5
BuzzSumo is a great tool to use while planning out the content your brand is going to publish. By showing you which type of content performs the best, analyzing the content that your competition is putting out, and enabling you to do a keyword-based analysis, BuzzSumo makes identifying topics and keywords in your industry much easier. This tool also helps you identify the leaders in your field and to analyze their content so that you can use the same strategies. Lastly, by using BuzzSumo, you can locate important influencers in your niche, and plan who you'll work with to distribute your content.
Price: Plans start from 119.95$/month
Capterra Rating: 4.6/5
Semrush is useful especially when you're analyzing your competition's content. Their content marketing tools let you analyze both your own and your competition's backlinks. Similar to BuzzSumo, Semrush helps you identify the topics that drive the most traffic and the keywords that you or your competition is ranking for. The brand has a total of seven different tools that are meant to improve your content, ranging from post tracking to help you measure your content's performance to an SEO writing assistant.
Price: Plans start from 99$/month
Capterra Rating: 4.7/5
After analyzing the performance of your own content with this Ahrefs, you can learn more about your competition too: find out where they're getting organic traffic from, see if they're buying PPC ads, locate the keywords that they are bidding on, and look at their backlink profile. By using Ahrefs' detailed competition analysis, you'll get a good idea about what your content should aim to do in order to rank better than the others.
Price: Free plan available, paid plans start from 9.99$/month
Capterra Rating: 4.5/5
Email marketing is a vital part of content marketing, and Mailchimp is a must-have tool for your email marketing needs. Build an email list, send emails tailored to your customers' behaviors, and create click-worthy emails with beautiful, customized designs and eye-catching subject lines with this email marketing software. Then, measure the success of your email marketing strategies by looking at metrics such as subscription rates and average open/click rates with their reports.
Price: Plans start from 19.99$/month
Capterra Rating: 4.3/5
Distributing your content on social media is a must, and Hootsuite makes your job easier by helping you schedule your posts on more than 35 platforms. This social media marketing tool lets you know what you need to publish and when you need to publish it in order to get the most engagement. The social analytics dashboard also lets you track your top-performing content so that you can create more of it.
Price: Provided on request
Capterra Rating: 4.4/5
UberFlip is a content experience platform that optimizes the relevant target audience's digital experience. The brand has a wide variety of features, ranging from conversion tracking and publish scheduling to SEO management. UberFlip is also good at customizing your landing pages and content according to your buyer personas with AI content recommendations. Another great aspect of the brand is that it allows you to create Content Hubs where you can organize content in a way that'll fit your buyers' wants and needs.
Inbound Marketing Tools For SEO & PPC
Does your content pop up as one of the first results in Google? Are there problems that you are not aware of? The SEO tools below will help you answer these questions. Are your ads performing according to their money's worth? See the answer by using the appropriate PPC tool and analyze its report.
Price: Free
Measure the usability of your site via this simple tool. Just enter the URL, and PageSpeed Insights will tell you how long it took for the site to load, and then grades it based on different metrics such as speed index, total blocking time, time to interactive, and more. The report also makes suggestions as to how you can improve your site's usability grade.
Price: Plans start from 79$/month
Keyword tools are important for SEO as well as content marketing. Enter any keyword to Answer the Public, and it will return a list of long-tail keywords that you can target. Locating these long-tail keywords improves your ranking and your chances of appearing to a larger number of searchers.
Price: Free
Capterra Rating: 4.8/5
See how Google views your site: this popular search engine provides users with a report of technical issues, SEO data that includes ranking position and click rates, and shows you the sites that link to you. If you want to improve your site's status in Google and to be updated once Google notices spam or other issues, use this tool.
Price: Varies according to budget
Capterra Rating: 4.4/5
A must-have tool for brands who often do campaigns on Google Ads. It enables the user to do bulk edits and to optimize their ads according to key PPC metrics. You're also able to work on your accounts while offline and to view any changes you may make on your ads as a draft before publishing them.
Price: Plans start from 33$/month
Capterra Rating: 4.4/5
SpyFu lets you spy on your competitors' PPC keywords so that you can make necessary adjustments to your own campaigns. Not only are you able to track keywords, but you can also get a report of every keyword they have bought so far and their estimated monthly budget. As a result, SpyFu stands as one of the best PPC tools in terms of competition analysis.
Price: Plans start from 29$/month
Capterra Rating: 5.0/5
The "first end-to-end SEO tool to use OpenAI GPT-3," GrowthBar provides users with content outlines that are created with the aim of improving their ranking in the most popular search engines. Similar to the other tools I've listed, GrowthBar tracks keywords and backlinks for any site and allows you to get SEO insights while you do regular Google Searches via their free chrome extension.
Inbound Marketing Tools For Chatbots
Chatbots make your life easier by being there for your customers when you're not. This is important, as 53% of customers are more likely to buy from a business that they can message. These chatbots save you time and effort by answering the fundamental questions that you can't respond to over and over again. The tools below will create the right chatbots for you.
Price: Free version available, Plans start from 14.25$/month
Capterra Rating: 4.7/5
With their patented OmniChat chatbox marketing technology, MobileMonkey offers users a chatbot that can be used on every platform, a unified inbox, and a chance for instant communication with customers. The tool is multilingual and mobile-friendly, and it comes with chatbot templates and analytics tools as well. All of these features make MobileMonkey one of the most used chatbots for marketing.
Price: Plans start from 99$/month
Capterra Rating: 4.6/5
TARS is a chatbot builder that enables users to create website chatbots and conversational landing pages for their sites. This tool is especially great at capturing leads and improving conversion funnels, and it requires no coding skills at all. There are chatbot templates available for specific industries, and the chatbots can be used for customer service automation, feedback collection, and much more.
Price: Plans start from 10$/month
Although limited to platforms that use Facebook Messenger bots, SmartLoop is still a good choice for generating and nurturing leads. The tool is based on a conversational AI mechanism that can be used to book appointments and to re-engage cold leads. Machine learning improves conversations by analyzing context, and the data collected from previous conversations can be used to send personalized messages and push notifications. The chatbots are also able to hand off to a human agent based on the type of request.
Price: Plans start from 40$/month
Capterra Rating: 4.4/5
Botsify is another tool that's integrated with several platforms like WordPress, Slack, Shopify, ZenDesk, and more. Used by various big brands like Apple and Shazam, this tool also uses AI learning and is able to store data from conversations. You can also view conversations as they roll out and step in if necessary. Their drag and drop interface makes designing chatbot templates easier. You're also able to send personalized greeting messages via this tool as soon as a customer enters your platform.
Price: Plans start from 19$/month
Flow XO lets you capture leads before you engage with them personally. This chatbot is able to answer the most basic inquires for you so that you don't waste time going over the same questions for each lead, and it makes sure that the lead is qualified by going over specificities. One of the main cons is that the bot-to-human hand-off isn't pretty easy, which puts additional responsibility on the chatbot, a risk that some businesses may not want to take.
Inbound Marketing Tools For Lead Capturing
The main aim of inbound marketing is to attract leads that are actively searching for a service that you are providing. The tools below will make sure that you don't miss any of those active searchers.
Price: Plans start at 99$/month
Capterra Rating: 4.0/5
Capturing leads means earning their trust by engaging with them, and engagement requires contact. This is why more than 600 thousand users prefer Lusha: this B2B database has an 81% accuracy rate when it comes to contact information, one of the highest rates in the industry. Aside from gathering information for leads, Lusha is also used for recruitment purposes by top businesses such as Google and Amazon.
Price: Free plan available, upgraded plans start from 49$/month
Capterra Rating: 4.0/5
Bitrix24 is an all-in-one tool: it works as a lead capturing software, CRM system, and workload manager. Their software automatically captures leads, regardless of the platform (be it web forms, live chats, or social media,) and adds them to your CRM. Their built-in lead scoring tool also lets you see qualified leads, and assigns the correct sales rep instantly.
Price: Plans start from 45$/month
Capterra Rating: 4.5/5
Capture leads by attracting visitors to your site with Hubspot's Marketing Hub. Create engaging content with their blogging tools, and catch leads' attention with the built-in SEO optimization tool. After attracting leads, convert them into customers with easy-to-build landing pages and engage with them down the road with marketing automation. All of these features make Hubspot Marketing Hub the perfect tool to capture and nurture leads.
Price: Provided on request
Capterra Rating: 4.3/5
ZoomInfo is another tool that can be used to find and engage with qualified leads. This integrated cloud-based platform is all about creating targeted marketing solutions that will reach the right people. Its most prominent features include contact and company data availability/accuracy, Integration to CRM and marketing automation, Lead Builder, and Lead Analysis.
Price: Plans start from 12.30$/month
Capterra Rating: 4.1/5
GetResponse is specialized in email marketing: they promise that their emails reach the right people at the right time. This platform helps you build effective email lists easily, send email broadcasts and newsletters with high opening rates, and create automated email sequences to engage with subscribers. It's the perfect all-in-one email marketing tool that'll capture your leads' attention.
Price: Plans start from 12.50$/month
Capterra Rating: 4.5/5
Close the deal with your leads using Pipedrive's step-by-step guidance. Set up the stages of your sales, focus on the action that has to be taken in each step, assign the right person, track progress, and measure performance using this tool. With features like churn management, client tracking and collaboration tools, it's easy to keep your focus on clients and to prioritize deals.
Price: Free account available (40 credits)
Capterra Rating: 4.4/5

LinkedIn is a powerful tool for business professionals, but it can be difficult to connect with the right people or gather the information you need. ContactOut helps bridge that gap by enriching LinkedIn profile URLs in bulk to get full profile details, job details, and contact information. This makes it easy to create email campaigns and engage with potential leads. You can also send emails while browsing LinkedIn using their reusable templates. Additionally, you can contact multiple people at once and follow up automatically. ContactOut makes LinkedIn easier and more efficient, making it a valuable tool for data enrichment.
Inbound Marketing Tools For A/B Testing
It's impossible to design the perfect landing page or the perfect lead-capturing form, so you constantly have to experiment with new designs and improvements. The best way to test any change is to use A/B testing, and the tools below are made specifically for that purpose.
Price: Free (has to be connected to Google Analytics)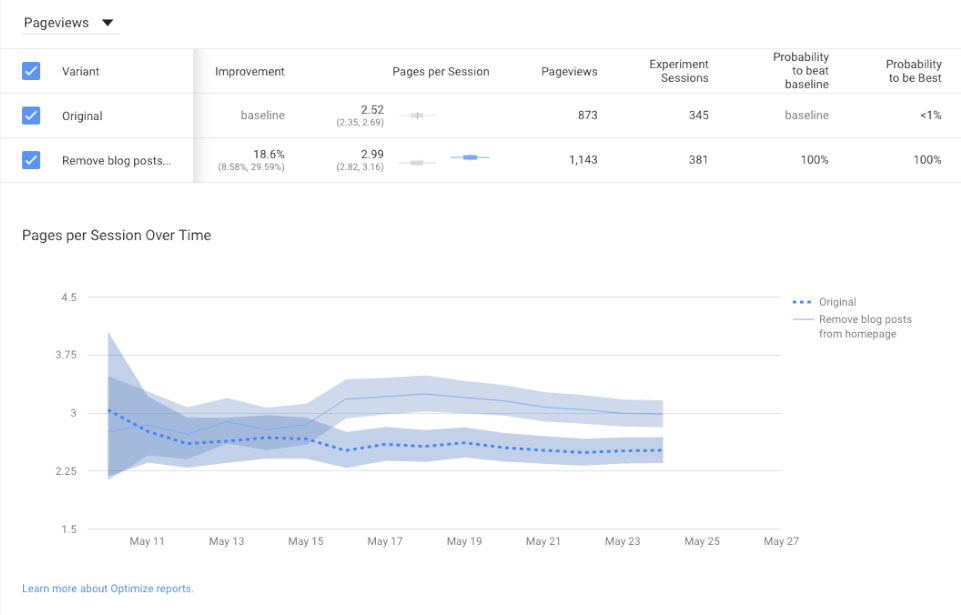 Other than the regular A/B testing tools, Google Optimize allows users to do multivariate and split URL testing, side experiments and more, all against the objectives that you can customize according to your marketing goals. The interface is user-friendly and it easily integrates with the Analytics reports, making this tool an overall good option for those who work with Google Analytics.
Price: Provided on request
Capterra Rating: 4.5/5
Optimizely is an experimentation platform dedicated to large enterprise-level customers. This platform enables users to do dynamic testing with actual visitors, to get feedback, and to do this all fast. Their Performance Edge feature lets you experiment without slowing down your site. Features like exclusion groups allow you to run multiple experiments on a single page. All of this can be done by pasting a code snippet on pages that you want to track.
Price: Provided on request
AB Tasty is another customer experience optimization company that makes use of AI capabilities. Similar to the other A/B tools mentioned, AB Tasty lets you do split and multivariate tests, but it also let's you perform funnel tests, which is not found in every A/B testing tool. While testing, AB Tasty offers a report so that you can assess performance in real-time. Its user-friendliness is also a plus for many users.
Price: Plans start from 699$/month
A web-personalization software used by companies such as Sony and Jabra, Convert measures the performance of your tests based on a large range of metrics. The tool can be integrated with other third-party tools like WordPress, Shopify, and Kissmetrics. Their Advanced Targeting feature can optimize underperforming channels, their Post Segmentation feature lets you analyze data based on segments such as new/returning users or customized segments of your choice. This tool is a pretty comprehensive tool when it comes to testing.
Price: 179$/month
Leadformly is focused on optimizing your lead-capturing forms. To make sure your forms aren't underperforming, Leadformly will help you test your forms and improve them with its customization tools. The brand promises to capture 3 times as many leads with their improvements.
Inbound Marketing Tools For Video Marketing
Video marketing was found to be 600% more effective than print and mail marketing combined. As inbound marketing moves towards more visual platforms, your brand should be on track. Use the video editing tools below to create, edit, and publish videos that'll attract customers.
Price: Free plan available, Upgrades start from 15$/month
Capterra Rating: 4.4/5
Vidyard's key features are divided into four categories: video creation, video hosting, video analytics, and video personalization. These features make recording easy with recording limits of up to an hour and simple editing tools. It's also easy to measure the performance of your videos: Vidyard makes it possible to see viewer behavior once they have finished your video. As a result, you're able to measure the effectiveness of your videos and to understand your audience, so that you can create more targeted explainer video content..
Price: Free plan available, Upgrades start from 7.50$/month
Capterra Rating: 4.2/5
If you want to use YouTube as your main video marketing platform, VidIQ is one of the tools you can use. You can get an overview of metrics specific to YouTube, improve your organic reach on the platform, do competitor analysis and comparison, and more. It also provides real-time data once your videos are online.
Price: Plans start from 7.20$/month
Capterra Rating: 4.5/5
TubeBuddy is a YouTube-certified browser extension that includes all features you may be looking for. The video SEO features include an auto translator to increase global viewership and an opportunity finder to get you ideas. The productivity features let you create pre-written messages to save you time while responding to the same comments. Encompassing countless other features like these, TubeBuddy is a great video marketing optimization tool.
Price: 19.99$/month
Capterra Rating: 4.5/5
Filmora is simply an easy-to-use video editing tool that enables users to adjust the color effects, speed, brightness, or other visual aspects of their videos. On top of simple editing tools, Filmora also helps you create interactive and engaging videos.
Conclusion
Inbound marketing requires time, planning, effort, research, and collaboration. All of this cannot be done by you or a sales team alone, thus using the right tools is vital.
The tools I've listed above are all designed to improve your inbound marketing strategies. However, the effectiveness of each tool will vary based on what your brand is aiming to do. To choose the best fit, you'll want to analyze and compare the features of each tool individually. Use Capterra to make your decision-making process easier, and start off by researching the tools we've tried and recommended above.
FAQ
What is inbound marketing?
Inbound marketing is a marketing strategy that captures potential customers by creating brand awareness and engaging with leads.
What are the four stages of inbound marketing?
Attracting visitors, converting them into leads, closing the deal by turning leads into customers, and getting customers to promote your service. These stages can be summarized as Attract – Convert – Close – Delight.
Subscribe to the The Flow's weekly issues
Sharing everything we know about growth, with real playbooks we use, interviews with top growth leaders, and research & opinion pieces.