Top 14 Product Update Emails That Will Inspire You
Email is one of the most successful and widely used channels for B2B marketing. For every dollar spent on email marketing, the ROI is $42. B2B SaaS companies use email marketing to send various emails, one of them being emails for product update announcements. Keeping users notified of product updates helps with awareness, engagement, and retention.
To learn more about why B2B product updates announcements are important, how to announce them, and real product update announcement email examples, keep reading.
In a rush? Skip to the first email example!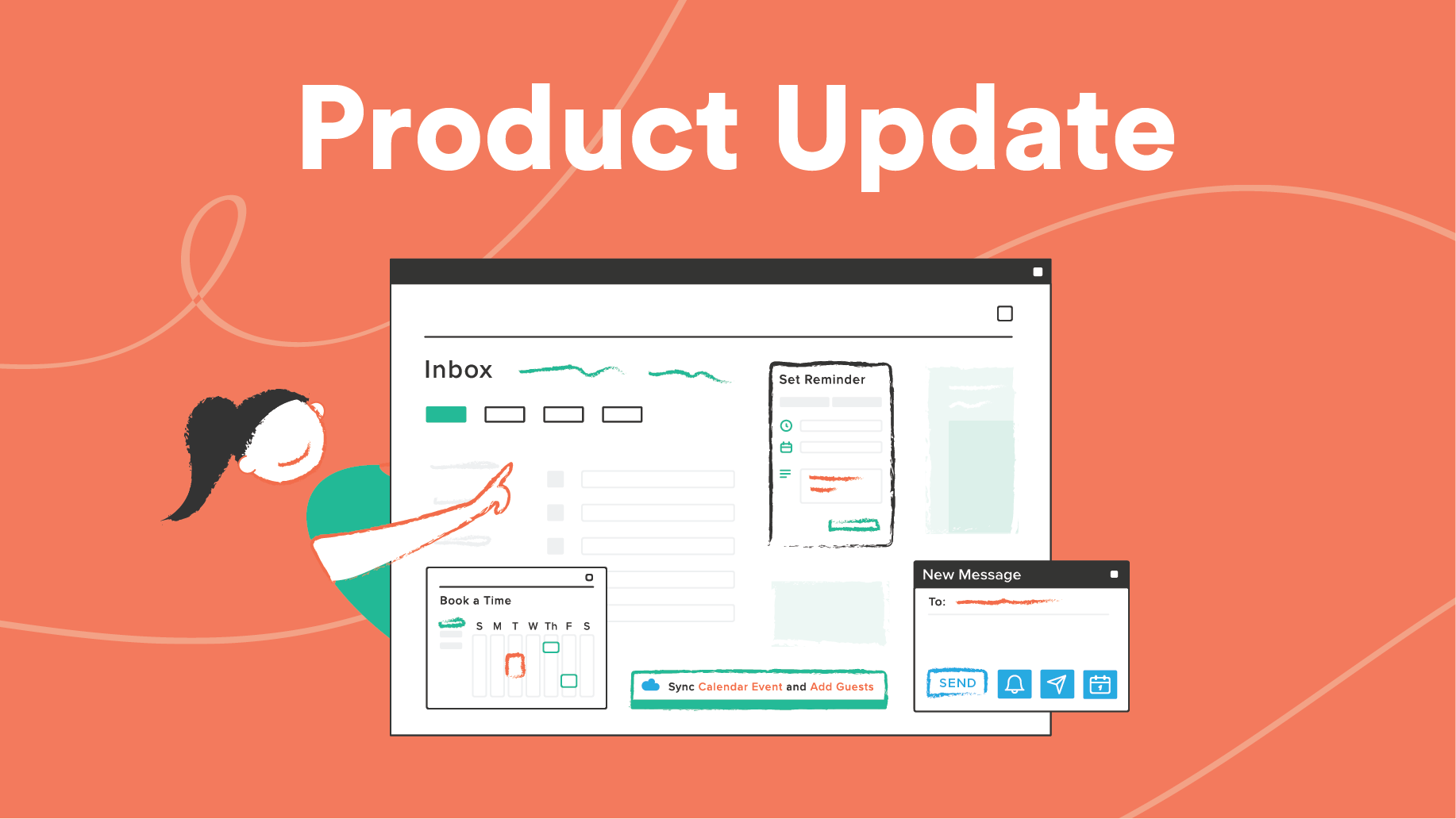 Why are product update announcements important?
1. To build awareness
Users may not even notice that you have a product update until you let them know about it. Maybe you have a cool new feature, a bug fix, or a new product that one of your users suggested. By announcing the changes, you increase the discovery rate of your new updates. The quicker users discover your new product, the less time it takes for them to find value from it.
For instance, software improvement can enhance the user's experience with your product, and a bug fix can reduce the time they spend accomplishing tasks. By learning about these updates, users can acquire benefits quickly, increasing their likelihood of sticking with your product.
2. To prevent possible frustration
While some feature updates are minor, others can change fundamental aspects of your product. If there's a sudden drastic change in your product without any prior communication with the user, it can be frustrating. Notifying about updates beforehand will help the user know what to expect and when.
3. To attract new users
Since not all feature announcements are in-app, they can also attract people's attention outside of your customer base. By using channels such as blogs, social media, and webinars, you can expand your outreach to people who might want to try out your product.
4. To retain users
Product update announcements can also help attract and reengage users that churned or have been inactive for a while.
How do you announce a feature update?
When announcing a product update, there are some important things to consider. These are:
1. Your target customers
Who is the new feature for? Not everyone will care about the new feature. There are some important groups of people that you should target for announcements:
Existing users who have requested the feature. This group of high interest is likely to use the new feature.
Users who can access the feature. Some features are offered to specific customer segments. For instance, if the new feature is part of a premium plan, the users on this plan should know about it.
Potential customers you want to attract to your product. New features announcements on social media, blogs, and external communication channels like press releases and influencers can also work to create awareness of your product.
Users who stopped using your product for a while. You can target these users in specific update emails to bring back their attention.
2. The type of announcement
There are many different types of product updates. You might be sending an email for:
a new feature
a new product

a bug fix

a new product plan
a trial opportunity
a surprise update
a technical update
Naturally, the emails for each of these updates will look different.
3. Your goals with the feature
There are goals that you should have with your update announcement. Is it to notify existing users that you have developed the feature they wanted or inspire new prospects with your product? Setting goals will inform the rest of your decisions around the product announcement and help you measure the success of the new launch.
For example, by knowing what you want to achieve with your product update announcement, you can decide on the best channels to communicate the update with your users.
4. Your target channels
There are several channels you can use to inform users about updates. These are:
Email is the ideal channel since you can personalize emails. Personalization helps build an emotional connection with users and increases their chances of taking action.
Also, when you want to reach out to existing users (rather than new users) about product updates, email is the best channel for that. Email is also the right channel when you want to bring back churned users.
Blog posts are another option, but they can quickly go wrong if they're not done correctly. The post shouldn't be a press-release-type article that talks about the product. To be effective, it's important that the article speaks in the user's language and shows how it can solve the user's problem.
Also, blog posts are attractive for feature updates in the short term, but they quickly become outdated. As you roll in new features over time, users can get confused about which ones are new and when they were released. Moreover, sometimes visitors go through your blog to simply find value and not feature update articles. You can have a separate blog just for product updates to avoid these problems, as some B2B SaaS companies do.
Even if you don't use other channels, in-app notifications are a must. It's the most efficient way to let existing users know about the update. The trick is to give the update in the right way and right moment without making it intrusive.
Webinars are a great way to demonstrate the new feature for the many visual learners out there. Using video is especially useful to explain more sophisticated changes. Webinars can also give the audience the chance to ask questions about your product to understand it better.
If your company has a large following on social media, using social platforms is a great way to create excitement about upcoming features. This is also the channel you want to target for bringing in new users.
In the following section, you'll find examples of effective product update announcement emails.
1. App Store

In this update email by Apple, there is an emphasis on the most popular apps in different categories, which is likely to drive the attention of many App store users. The visuals are perfect, and there is the right balance between graphics and text that briefly describe the updates. The wording focuses on what concerns the users, which is the benefits they will receive from the updates. There are also multiple calls of action that encourage the user to discover the new features.
2. Canva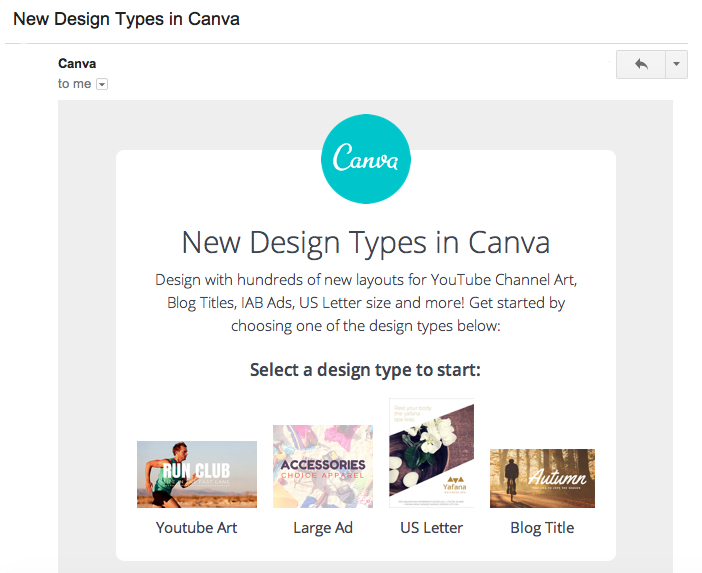 Canva is a popular tool used by marketers and non-designers to create graphics for marketing and other types of content. It has always targeted users with non-advanced design skills, reflecting this in its marketing. There are ready-made templates for different purposes in their product update email that users can use right away. Also, the email includes a call to action which encourages immediate response from the user. The user can easily create a new design by simply selecting a template.
3. Unsplash
Unsplash is a stock photography site where you can download and upload stock photos. Although the main community of Unsplash is photographers, Unsplash targets its developer user segment in this product update email. This is an example of an email that targets a particular group of users. It talks about an API, which is technical information that doesn't concern every Unsplash user.
4. Vimeo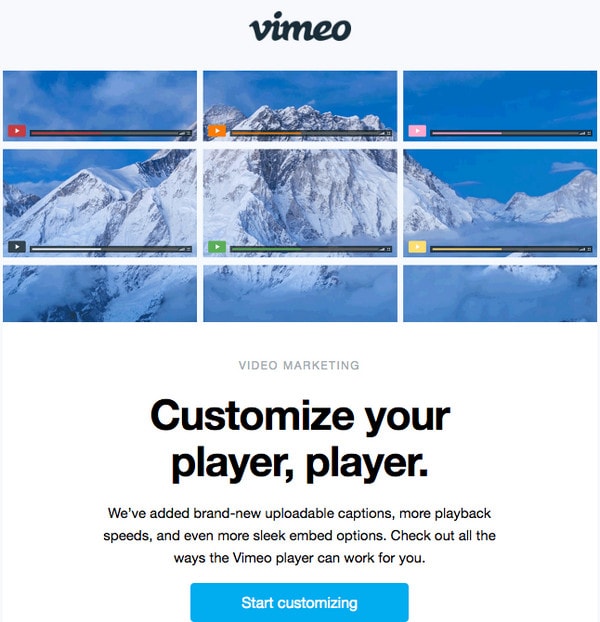 No one wants to read an essay on new updates. The best emails are short and to the point. This is a very brief and concise update email by Vimeo, a platform for uploading and sharing customizable videos. It includes visual elements for engagement and lists all the new features in a single sentence. It also has a call to action to encourage users to try out the new features.
5. Hootsuite
This is a product update email by Hootsuite – a platform for social media management – that entirely focuses on the benefits to the user. The clever wording disguises the new features behind the benefits that users will receive from them. By reading this email, users know exactly what they can achieve with the new features. The updates are also listed in bulleted and bold points, making it easy to read and extract the essential information. Finally, a call to action urges the user to reserve a spot and not miss out on a live walkthrough of the updates.
6. Skillshare
This is an example of a technical update email from Skillshare, an online learning platform. Its purpose is not to promote the product, so it's not the most exciting email. But it's important to keep users updated on service changes. This email informs users about the infringement of copyrighted work, which is a critical security concern for many users.
7. Dovetail
Dovetail is a cloud-based company that helps businesses analyze and manage user research data. It uses easy-to-understand and intuitive visuals that describe three new features in this email. The graphics used are self-explanatory and informative, making it unnecessary to write long sentences describing the features. The colors are also synonymous with the brand's colors, making the look aesthetically pleasing.
8. Asana
This is an example of a new product launch email by Asana, a work management platform for web and mobile. It includes a moving, visual representation of the real-time reporting and tracking feature. This helps the user view the feature on the spot without going to the webpage. Including the feature preview inside the email is smart because email click-through rates are much lower than open rates. So if the feature required a click, much fewer people would know about it. This email acts as an invitation to use the dashboards right away.
This is another email by Asana that talks about speed improvement. This email targets users who dropped off due to slow performance. It informs users that the problem has been solved so they can be motivated to engage with the platform again.
9. Wistia
This is a set of 3 emails by Wistia, a B2B video hosting platform, sent before and after their improved video player launch. Sending out emails leading up to the update can create excitement among users and keep them from churning. It can also attract the attention of users who have been inactive for a while. Alongside the text that describes the features, they have included short, dynamic content to demonstrate how they work. Since people are much more likely to remember visual information than text, it is more likely that users will remember and anticipate the update.
10. Grammarly
Grammarly is a widely used program that checks writers' grammar and punctuation. This update email talks about new features in Grammarly's premium version. Although these new features are for premium users, this email targets both free and premium users. It's meant to inform premium users about the update and inspire free users to upgrade to premium.
11. Venmo
In this email by Venmo -an online payment service- you can find personalization, the solution to a problem, and calls to action. People love anything personalized, and having the option to choose the color of the card makes it more exciting. Especially with a vibrant preview of the colors. The email lists the features by highlighting examples of how users can benefit from them.
12. PandaDoc
This email by PandaDoc, a software that helps users manage documents, is very personalized and speaks straight to the user. It starts with the user's name, states the user's problem, and offers a solution. By the end of the email, the possibility of saving time and being more productive with the app makes it almost irresistible to download it.
13. Airtable
Airtable is a spreadsheet application that helps businesses build custom apps. In this email, Airtable announces a set of new features. The email is very easy to read since all the updates are given in bullet points with different emojis. Each of the features is linked, enabling users to check out the feature they are interested in. Even by simply skimming through the text, it's easy to locate all the essential information.
14. Chartmogul
This is an email by Chartmogul, which is a subscription analytics software. It introduces a very important update to the platform, which is clear from the words "the world's first." Unlike the other emails in this list with lots of visuals and little text, this email is mostly text and has a serious tone of voice. The message is from the CEO, which also adds an air of importance to the email. To provide users with more information, they have provided a video about the update and a link to a blog post.
Conclusion
The announcement of a product or feature that took months to prepare also deserves some time and effort. There are various formats, layouts, and styles that SaaS companies use for their product update emails. Some use vibrant colors to attract attention, some include screenshots or demonstrations of the feature, and some use brief descriptions next to visuals. There are no rules when it comes to emails, and you can be creative with them, but there are some common factors you'll find in the most effective emails:
The email talks about the benefits that the user will receive from the new update and not about the product itself or how hard the team worked on it.
The email is simple, concise, and easy to understand.
The feature is inside the email and doesn't require a click to be viewed.
There is a balance between visuals and text, emphasizing visual representations like pictures and videos since they are easier to remember.
The email includes CTAs so that the user can easily engage and begin using the new features as soon as they see the email.
The list above is a good place to start when looking for product announcement email ideas. The key is to pay attention to the essential elements you should and should not include in the emails and leave the rest to your creativity.
Subscribe to the The Flow's weekly issues
Sharing everything we know about growth, with real playbooks we use, interviews with top growth leaders, and research & opinion pieces.