10 Best SaaS Marketing Tools for Your Business
Marketing is an essential aspect of the continuously growing SaaS business since marketing supports growth and progression.
However, SaaS businesses cannot use traditional marketing strategies because SaaS products' needs and characteristics are different from tangible products' needs and preferences.
In this article, we'll look at the best SaaS marketing tools that SaaS marketers can use to enhance their marketing strategies and increase the efficiency of their SaaS products.
Ahrefs
Ahrefs is an SEO software that helps marketers optimize products/services to increase visibility and enhance online presence. It enables you to access and analyze different keywords or other SEO metrics to help you build the best Saas marketing for your needs and preferences.
Ahrefs got 4.6/5 on G2 out of 376 reviews.
Backlink Analysis
Backlink analysis is a unique feature that helps you analyze your competitors' backlinks and identify toxic links directed at your website. It also gives you a general picture of those links and which websites contain them. This is a helpful tool for understanding your competitors' marketing strategies and acting according to them.
Also, backlink analysis enables you to clear all the toxic links, enhancing your online presence and eliminating any distrusted actions.
Keyword Explorer
Keyword Explorer is the feature that helps you to identify and assess the right keywords for different types of content. It provides you with detailed information about each specific keyword and enables you to explore them individually, making it easier for you to choose the best keywords according to your website/webpage.

Keyword Explorer makes suggestions according to the seed keyword you have chosen, ensuring that you have a powerful SEO and better search engine presence.
Organic Keywords and Organic Search Traffic
This feature helps you sort through millions of Google search results and analyze what keywords are ranking for which companies. In other words, this feature enables you to assess your competitors' strategies while also helping you to understand what drives your online marketing.
Pricing
Ahrefs offers four different price plans: Lite, Standard, Advanced, and Agency. As the plan gets more advanced, the number of user seats, site audit data, tracked metrics, etc., increase.
The prices listed below are prices paid monthly. If you choose to pay annually, Ahrefs offers two months for free.
Google Analytics
Google Analytics is a well-known web analytics platform offered by Google. It tracks and analyzes different marketing metrics (bounce rate, conversion rate, etc.) and provides you with valuable information about your product.
Google Analytics was released in November 2005, which the basis of the platform leaned on Urchin, a web analytics tool that was acquired by Google at the beginning of 2005. Google Analytics started its journey aiming to make web analytics accessible and convenient for its customers. Because it is one of the most comprehensive but free tools on the market, it quickly became a powerful player.
Although Google Analytics is widely used & free, it has some drawbacks:
It's hard to use
It's declared illegal in EU
It doesn't provide enough details for SaaS companies
It's resource-intensive as you need to setup hundreds of events
Google Analytics focuses on pageview data, meaning it tracks specific routes and end-points your users are taking throughout their visit to your website. This feature allows you to see various sources of traffic attribution, specific information about your customers' habits, and user journeys and helps you to make data-driven decisions for the future.
Therefore, it collects and analyzes data in four different categories: session level, event level, pageview level, and user level. Google Analytics combines these four into one and presents you with holistic reports.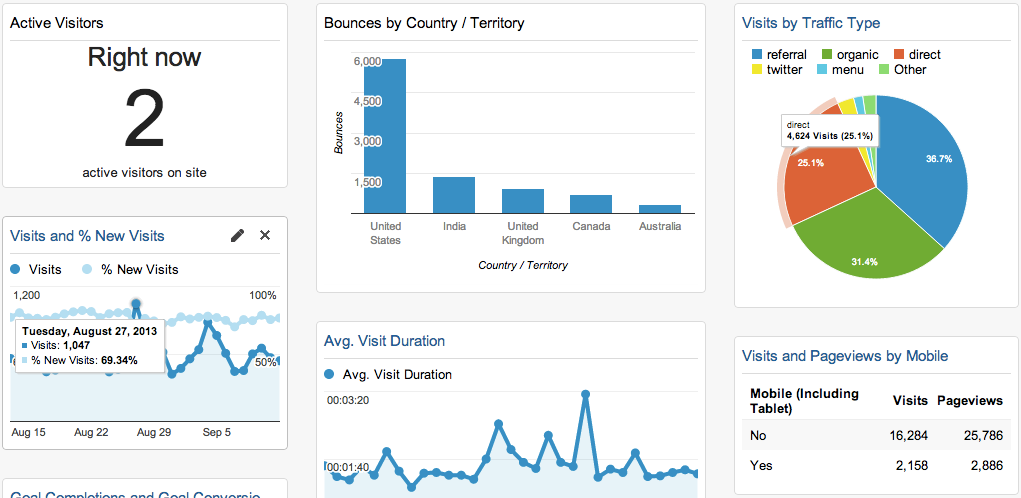 Sendspark
Sendspark is a software company that helps you record and share personalized videos. It can help you enhance your SaaS marketing by making you stand out in your audience's email inboxes. It sends personalized videos, making it easy to engage with your audience, empower your email marketing, and acquire new customers.
Mutiny got 4.8/5 on G2 out of 162 reviews.
Sendspark sends personalized videos to your target audience to spark genuine relationships. You can create different videos according to the demographics of your audience, maximizing the benefits you are getting from sending videos. This also helps you engage with your audience more effectively and form stronger loyalty.
Activation Sequences
Sendspark allows you to create and use videos for your activation sequences, which helps you easily and quickly onboard customers. By providing a welcome message and the instructions as a video, you enable your customers to get the natural feel of your business and your team.
These videos are also great ways to display all your features and tools to your customers, marketing what you can provide for them.
User Testimonials
User testimonials are effective ways to engage with possible customers and acquire new customers. These videos help you promote your product on social media and/or email, allowing you to show your product to your customers with built-in ethos. This allows your target audience to see that your customers benefit from your product and gives them an idea about what you can do for them.
Pricing
Sendspark offers four different price plans: Basic, Pro, Business, and Enterprise. The prices below are for the billed monthly option. If you choose the billed annually option, the Basic plan is free, the Pro plan is $12, and the Business plan is $15. To further learn more about the Enterprise plan, you need to request a demo.
HockeyStack
HockeyStack is a no code analytics and attribution tool for SaaS companies. With the ability to track every metric you need, HockeyStack unifies marketing, revenue, sales, and product data into one dashboard so that you can identify everything from the top performing marketing channels to the influence of internal links on conversions.
The tool is set up in 5 minutes and has built-in visualization capabilities allowing you to create comprehensive dashboards with reports, graphs, and charts with ease.
Custom Dashboards
With HockeyStack, you have the option to choose from a variety of available dashboard templates or build one from scratch. You can answer inter-departmental questions that you cannot answer with any other tool on the market, such as:
How much revenue did a certain blog series bring us?
What is the activation rate of users from Facebook Ads?
What is the average contract value of sales that our whitepaper generated?
Do users that affiliates bring churn faster than users that marketing brings?
and more.
By providing answers to these questions, HockeyStack allows SaaS businesses to get rid of fragmented data and start understanding what really affects their revenue.
Step-by-step User Journey
HockeyStack collects every single action on your website & product with no code and visualizes each user's journey in an easy-to-understand way.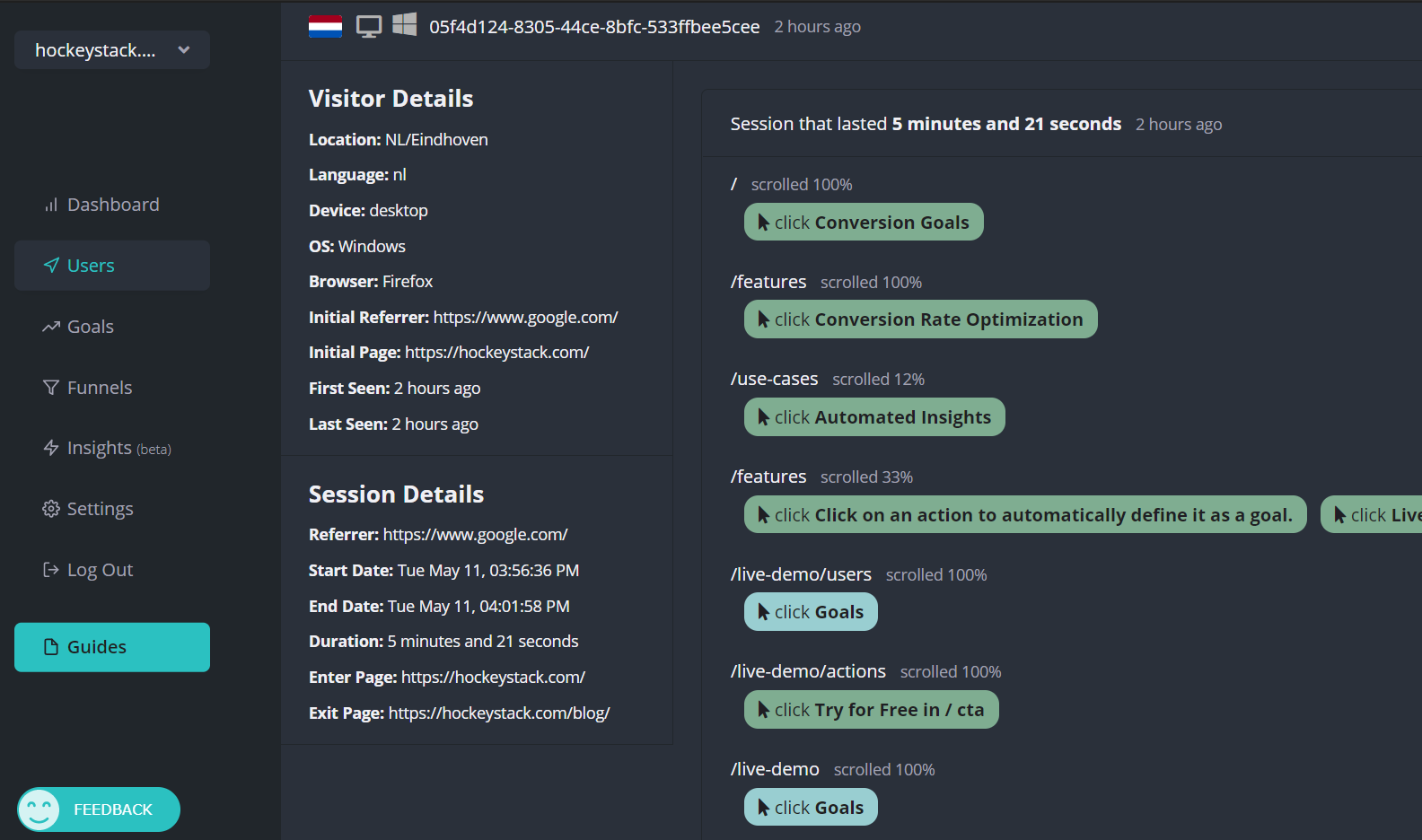 You can filter by every user & session property, custom goals, and more.
Surveys
With HockeyStack, you can create surveys too. It's free for everyone to use & the pro version is included in every plan.
You can create all surveys that you need, including churn, NPS, pricing, and more. Connecting your surveys account with your HockeyStack account allows you to understand the journeys of customers & understand the why behind their survey answers.
HockeyStack's Features
HockeyStack offers these features with no code:
Step-by-step user journey
Custom dashboards
Funnels and goals
Surveys
Revenue analytics
Segments
and more
HockeyStack Pricing
HockeyStack has two plans, both of which have a 14-day trial with a 30-day refund guarantee.
You can check out the pricing page here.
HockeyStack Integrations
Paddle
Stripe
Hubspot
Pipedrive
Mailchimp
Intercom
Chameleon
Crisp
Salesforce
Zapier (coming soon)
Mutiny
Mutiny is a no-code platform that provides marketers with the necessary tools to convert demand into revenue. With its AI-supported software, Mutiny can help you build a SaaS marketing that focuses revenue based on different customer segments.
Mutiny got 4.7/5 on G2 out of 14 reviews.
Website Visitor Data
Mutiny is a robust tool that analyzes data to suggest the best practices for SaaS marketing. It can collect data about your website traffic and help you identify the traffic sources. On top of everything, it also gives you detailed information about the sources, such as the industry and the company's size.
Mutiny segments website visitor data, helping you understand your audience's demographics. This enables you to make data-driven plans for your SaaS marketing, improving your user experience and revenue.
Audience Recommendations
Mutiny not just segments data into different categories but also suggests the best segments for developing the best SaaS marketing. By recommending different segments, Mutiny helps you drive different marketing plans for different audience types and understand how your marketing works on different groups. It also gives tips for further optimizing your webpage for the best user experience.
Personalization
Mutiny's visual editor is an excellent tool for personalizing your website according to the needs and preferences of your target audience. The visual editor enables you to make data-driven changes to your website, optimizing the user experience and increasing customer satisfaction. It also constantly collects data further through its built-in analytics to help you better understand the strengths and weaknesses of your website.
Pricing
Mutiny does not disclose price plans on its website. However, according to third parties, the Standard plan costs around $1,500 and $2,200 per month, and the Startup plans cost around $300 and $650 per month.
Clearbit
Clearbit is a B2B data activation platform that helps companies grow faster with real-time marketing intelligence. It enables you to control your website visitors, manage campaigns, and generate leads. This gives you a complete view of your company, marketing strategy, and customers.
Clearbit got 4.4/5 on G2 out of 523 reviews.
Automated Routing
Automated routing is the process that the Clearbit Enrichment feature analyzes every incoming lead. It enables you to build automated routing systems based on regions and other variables to generate leads. In other words, Clearbit automatically does the footwork that takes too much time and effort if you are doing it manually.
Business Contact Data
Clearbit is a powerful tool that collects and evaluates business contact data, improving acquisition, conversion, and operations. With its Enrichment, Forms, Prospector, and Advertising products, Clearbit allows you to understand the basics of personal attributes such as email addresses, direct dials, job title, role, and seniority. This helps you drive plans according to the characteristics of your audience, making better-targeted marketing plans.
One Place
Clearbit is a platform that provides everything in just one place: one place to segment, manage and activate data. Since you can do everything on just one platform, Clearbit saves time, effort, and money. This also enables you to easily control your data and quickly strategize according to these data.
Pricing
Clearbit offers three different price plans: Free Tools, Business, and Startup. Each is created explicitly for various companies, providing necessary tools and features. You need to contact a sales representative to learn more about the plans and prices.
Unbounce
Unbounce is a SaaS marketing platform that focuses on building and optimizing landing pages for improving campaigns and user experience. It helps you create the best landing pages to attract and keep customers, generating more traffic and increasing sales and conversions.
Unbounce got 4.4/5 on G2 out of 285 reviews.
Conversion-Driven Platform
Unbounce is specifically built to help you convert visitors into leads by optimizing landing pages according to the needs and preferences of your targeted audience. Therefore, with its built-in tools, such as pop-ups and stickers, Unbounce helps you improve your landing pages. It also provides you with unlimited A/B testing, which allows you to assess your strengths and weaknesses and change your plans according to them.
Customization
With Unbounce, you can create the best landing pages according to your needs and preferences. With its drag-and-drop builder, you can quickly build and customize landing pages without needing prior coding knowledge. This allows you to optimize and personalize pages rapidly, saving time and money.
Analytics
Unbounce not just helps you to build landing pages but also provides you with detailed reports about your landing pages. It gives you insights into your landing pages and A/B testing, allowing you to analyze your business from different perspectives. Therefore, with Unbounce, it is easy and quick to take data-driven actions for your marketing plans.
Pricing
Unbounce offers three price plans for its Smart Builder tool: Launch, Optimize, and Accelerate. Each plan serves different marketing goals and the sizes of businesses. If you choose to pay yearly, you can get 10% off.
Canva
Canva is a graphic design platform that helps you create social media graphics, presentations, and much more. Even though it is not a SaaS marketing tool, when used properly, it can become one of the most beneficial tools for your SaaS marketing. For example, for your SaaS marketing, you can use Canva to make blog and event banners, build branding, and create unique icons.
Canva got 4.7/5 on G2 out of 3,349 reviews.
Templates
Canva offers more than hundreds of templates divided into different categories, such as banners, posters, social media posts, logos, stickers, etc. It is also very easy to find a presentation template that suits your general branding aesthetic and/or business preferences. Therefore, without needing to spend extra time and effort on a design that might be used just once, you can easily utilize Canva's templates.
Customization
Even though Canva offers various templates according to your needs and preferences, it is also a very flexible and highly customizable platform. It provides you with different tools that help you to create graphics/visuals that fit best for your content marketing and product marketing. Therefore, with Canva, there are no limits to what you can design and use.
Ease of Use
What makes Canva the most popular graphic design tool is its user-friendly and convenient UX and UI. To use Canva, you don't need prior training or knowledge about graphic design. Therefore, you don't need to hire a team that only specializes in graphic design, saving you both time and money. The only two things you need to use Canva are passion and creativity.
Pricing
Canva offers three different price plans that vary according to the number of your teammates: Free, Pro, and Enterprise. One of the best features of Canva is that the Free price plan is actually very extensive and helpful, containing hundreds of templates and tools.
Wistia
Wistia is a video hosting platform that enables you to create and share videos that enhance your website and user experience. It helps you shoot videos from scratch, track your performance, and engage with your audiences. Wistia is the leader in brand affinity marketing.
Wistia got 4.6/5 on G2 out of 251 reviews.
Built-in Anayltics
Creating presentation videos and sharing them is not enough for SaaS marketing. Fortunately, Wistia's built-in analytics monitors your videos, collecting data to see whether your videos are compelling or not. Wistia shows how your audience engages with your videos, from how many people are watching them to the engagement percentage. This helps you to take data-driven actions and see your strengths and weaknesses.
Integration with CTAs
CTAs are easy but effective tools to proceed your audience to the next phase, helping you earn conversions and improving your marketing. With Wistia, you can integrate CTAs in your videos and specifically create videos to help your audience engage with those CTAs. This enables you to guide people to pages you want your audience to visit.
SEO Ready
One of the most outstanding features of Wistia is that your videos are made SEO ready, meaning that any video you create is specifically designed and optimized to improve your rankings. This helps you attract more new customers and improve your online presence by helping you engage with your audience in a meaningful way.
Pricing
Wistia offers three price plans: Free, Pro, and Advanced. Each of the plans consists of standard features, but as the plan gets more advanced, the features like the number of podcasts and videos you can embed increase. While the Free plan costs nothing, the Pro plan starts at $99/month. On the other hand, you need to contact a sales representative to learn more about the Advanced plan.
Ranktracker
Ranktracker is an all-in-one SEO ranking tool that collects data about keywords, analyzes search engine competition, and creates detailed reports. It is a robust platform that can enhance your SEO and help you make SaaS marketing plans for the future.
Ranktracker got 4.6/5 on G2 out of 96 reviews.
Rank Tracker Tool
Rank Tracker monitors your site's performance and presence on search engines, helping you understand your strengths and weaknesses. With Ranktracker, you can make location-based and language-based tracking, enabling you to expand the area you are searching for and the type of searches you can do.
With Ranktracker, you can be in control of your Organic & Absolute positions for all your keywords, helping you to find your true rankings without distractions. You can also receive daily notifications for changes in ranking which enables you to monitor your website closely and help you change strategies quickly.
SERP Checker
Through its global database, SERP Checker allows you to find and choose the best SEO keywords for your business. For example, Ranktracker offers a detailed analysis of Google results and gives you insights into Google SERP. Therefore, you can see who is ranking for a specific keyword, the possibility of competition, and much more.
Like the Rank Tracker tool, SERP Checker also allows you to make location-based inquiries. It shows you results for a particular country/region/city/neighborhood. Therefore, it enables you to see the best keywords and choose the most efficient ones for those regions, increasing the efficiency of your promotions.
Web Audit Tool
By the Web Audit Tool, Ranktracker gives you detailed health check reports of your SEO. This tool checks all your on-site SEO factors, identifying problems with your SEO and offering solutions to fix them.
It is a quick tool that enables you to scan your whole site just in a minute, which you can run whenever and wherever you want. It also stores data of each run for future reference and suggests, according to the data, what differences you can make in your marketing strategies.
Pricing
Ranktracker offers four different price plans according to the size of your business: Starter, Double Data, Quad Data, and Hex Data. For all plans, there is a 7-day free trial, in which you can see how Ranktracker is working and what it can offer you.
There is a 60% promotion for the launch of Ranktracker 3.0.
Conclusion
SaaS marketing is an essential determinant of the growth of your business. If you can master your marketing and enhance your website metrics, your business will grow quickly. Each tool that I have taşked about is a great tool that can help you with different aspects of your SaaS marketing. According to your needs and preferences, utilizing these tools can help you a lot in the long run.
FAQ
What is different about SaaS Marketing?
What makes SaaS marketing different is the difference in customers' journeys due to the nature of SaaS subscription models. SaaS marketing also varies according to the needs and preferences of different types of SaaS businesses and the target audience.
Is content marketing good for SaaS companies?
Content marketing is an essential part of SaaS marketing since content marketing helps your customers understand the service/product you are providing and the value that your product creates. Therefore, you should always aim to utilize content marketing according to your SaaS business's needs and preferences.
Subscribe to the The Flow's weekly issues
Sharing everything we know about growth, with real playbooks we use, interviews with top growth leaders, and research & opinion pieces.