Top 8 SaaS SEO Tools You Should Try TODAY
Every day, potential customers are doing online searches for software to either learn more, look for alternatives, or make a purchase. The sites that rank highest rely on SEO.
SEO marketing is the primary way to increase organic traffic for SaaS companies. However, with millions of websites in countless niches, the competition is fierce. That's why SaaS companies need a solid SEO strategy that focuses on content generation, link building, and keyword research.
This article will cover the top SaaS SEO tools that can help you track the progress of your search engine optimization strategy and boost website traffic.
HockeyStack
Unlike other tools in the list, HockeyStack isn't an SEO analytics tool, BUT it's a must-have for SaaS SEO teams. Without a content tool like HockeyStack, SEO managers cannot measure which content brings the highest MRR which is an essential metric for SaaS teams.
The tool unifies marketing, revenue, sales, and product data into one dashboard with no code so that you can understand what really drives revenue at your SaaS. It's completely no code, and it doesn't require any setup.
With HockeyStack, you can answer inter-departmental questions that you cannot answer with any other tool on the market, such as:
Which channel has the highest conversion rate?
What is the activation rate of users from Facebook Ads?
What is the average contract value of sales that our whitepaper generated?
Do users that affiliates bring churn faster than users that marketing brings?
and more.
By providing answers to these questions, HockeyStack allows SaaS businesses to get rid of fragmented data and start understanding what really affects their revenue.
HockeyStack's Features
HockeyStack offers these features with no code:
Step-by-step user journey
Custom dashboards
Funnels and goals
Insights
Surveys
Revenue analytics
Segments
and more
HockeyStack Pricing
HockeyStack has two pricing plans, both of which have a 14-day trial with a 30-day refund guarantee.
You can check out the pricing page here.
HockeyStack Integrations
HockeyStack has plenty of integrations including:
Paddle
Stripe
Hubspot
Pipedrive
Mailchimp
Intercom
Crisp Chat
Salesforce
Zapier (coming soon)
You can find the full list of integrations here.
HockeyStack Summary
The unique benefit of HockeyStack is its ability to unify your marketing, revenue, sales, and product data using no code. This allows you to uncover unique insights that you wouldn't be able to by using multiple tools as they cause you to have fragmented data.
You can integrate with Stripe, Paddle, and Hubspot and build every single dashboard that you can think of, using all sales, marketing, revenue, and product metrics.
You can create funnels, goals, and surveys, which are rare to get with other tools on this list.
You don't need any developers, tracking is cookieless, and the script is small, so it doesn't increase your site loading time.
Ahrefs
Ahrefs is one of the leading SEO analytics tools for marketing professionals to increase search traffic. Ahrefs was mainly known as a backlink checker, but now it's also used for other purposes. It provides SEO tools for rank tracking, link building, keyword search, site audit, and keyword analysis.
Ahrefs Features
Among the key features of Ahrefs are its backlink checker, rank tracker, and alert tools.
1. Backlink Checker
Ahrefs provides metrics for evaluating the backlink popularity of a target. It also shows you the most linked-to pages and the estimated organic traffic to each linking page & referring domain. Moreover, you can get a complete breakdown of all outbound links, which makes link building easier.
2. Rank Tracker
The Rank Tracker tool monitors your Google rankings on both mobile and desktop. The interactive graphs of Rank Tracker show you a history of visibility, average position and traffic, and information on the distribution of positions. You can also find out if your site ranks in SERP (search engine results page) and compare performance with competitors in key areas.
3. Alerts
You can set alerts to get notified about new and lost backlinks, web mentions, and keyword rankings.
Ahrefs Pricing
Ahrefs offers four pricing plans:
Lite: $99/month
Standard: $179/month (most popular)
Advanced: $399/month
Agency: $999/month
You can also pay annually and use Ahrefs free for two months.
SEMRush
SEMRush is an all-in-one digital marketing platform founded in 2008 by Oleg Shchegolev and Dmitry Melnikov. It helps businesses run SEO, pay-per-click (PPC), social media, and content marketing campaigns. It's best known for its keyword analysis and research function, but it also provides traffic analysis, back-links, and domain analysis.
SEMRush Features
Some of the key features of SEMRush are Keyword Research, Traffic Analytics, and Position Tracker.
1. Keyword Research
SEMRush provides several SEO tools for keyword research that help increase traffic and win SERP features. For instance, the Keyword Overview tool provides key metrics and helps you decide the words to target.
2. Traffic Analytics
Traffic analytics insights offered by SEMRush show you the traffic metrics of almost any website. It also lets you study user trends and understand competitors' strategies for attracting users.
3. Position Tracking
With the Position Tracking SEO tool, you can monitor the fluctuations of your rankings on search engines. SEMRush produces reports that show your ranking, competitors' ranking, and help analyze the metrics of the keywords correlating with top pages.
SEMRush Pricing
SEMRush has three levels of subscription: Pro, Guru, and Business. You can also test the tool for free for 7 days.
Pro is the basic plan for small teams, offered at $119.95/month.
Guru is the most popular for SMEs and growing agencies, priced at $229.95/month.
Business is the advanced plan for large agencies and costs $449.95/month.
Google Search Console
Google Search Console (formerly Webmaster Tools) is a powerful SEO tool that Google offers for free. It gives you information about your site, finds search engine optimization issues, and helps you identify issues that you can resolve to make your site rank higher.
Some things you can do with Google Search Console are viewing website health, fixing indexing problems, and analyzing traffic data.
GSC Features
The best features that GSC offers are reports and the URL inspection tool.
1. Reports
GSC offers many different reports. These include performance reports, index coverage reports, page experience reports, and enhancement reports. You can use them for various functions, such as viewing details about your site's performance and finding technical errors.
2. URL inspection tool
This SEO tool is used to view information about Google's indexed version of a page. You can view the current index status of a page or request a page to be crawled. You can also inspect a live URL and view how Googlebot sees a page.
GSC Pricing
GSC is a free SEO tool that you can start using right away by setting up an account and adding your site.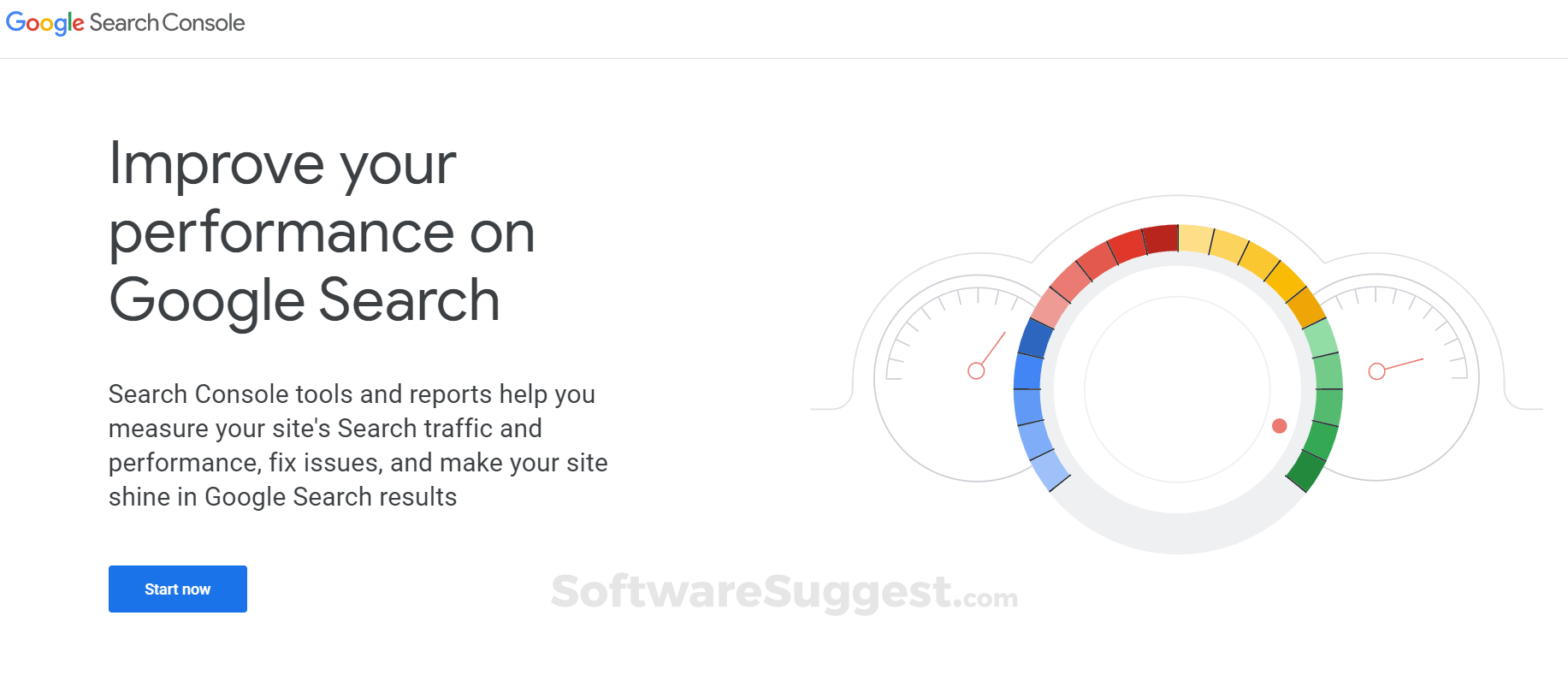 Screaming Frog
Screaming Frog SEO Spider Tool is a website crawler that identifies technical errors in a website. Instead of checking each site manually, the spider crawls over small and large websites and provides quick results. You can then use the information to optimize your site and improve search results.
Screaming Frog Features
Though Screaming Frog has a variety of features, three of its main uses are to find errors, extract data, and redirect audits.
1. Find website programming errors
The crawler finds 404s (broken links) and server errors so that you can bulk export to fix them. This way, you can ensure that your link building strategy is working.

2. Data Extraction using XPath
This feature lets you scrape data from the HTML of a web page using CSS Path, XPath, or regex. For example, this can be a social meta tag or additional headings.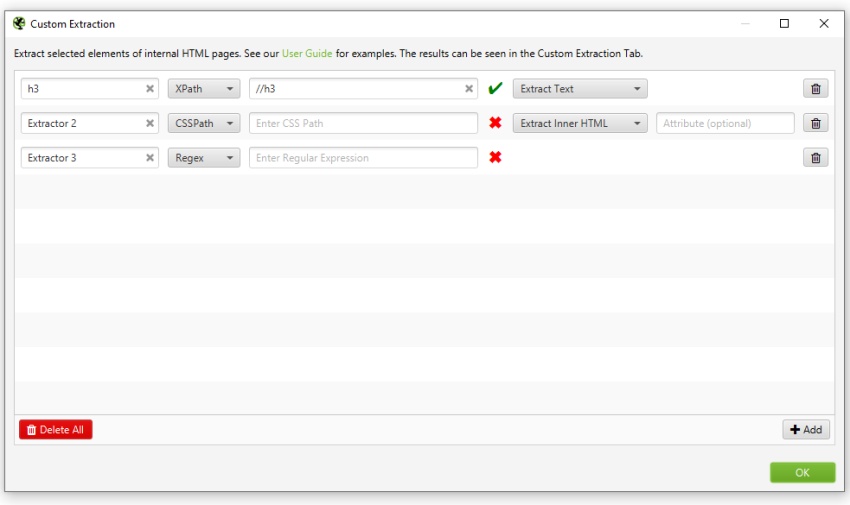 3. Redirect Audits
Redirects allow you to remove or change URLs on your site. Using the Screaming Frog SEO Spider, you can redirect by either crawling your site or uploading a list of URLs.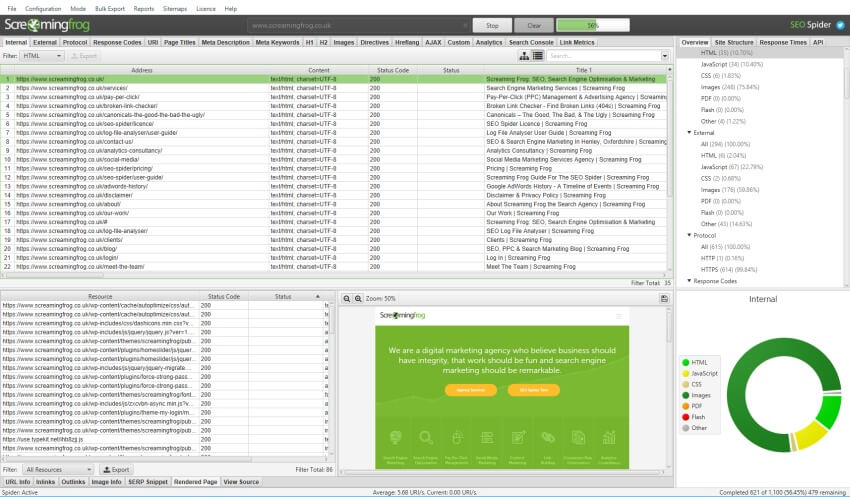 Screaming Frog Pricing
Screaming Frog has a free version and a paid version.
The free version allows you to crawl up to 500 URLs.
The paid version allows unlimited crawling of URLs and has additional features. It costs £149.00 per license, per year, where each user needs one license. For more licenses, Screaming Frog offers discounted prices.
Answer the Public
Answer the Public is a keyword research tool that creates visualizations through suggested data from Google and Bing. Basically, you type in a search phrase and it shows you a list of the top questions people are searching around that keyword.
It's a great tool that works quickly for finding new content ideas, but a downside is that it has minimal free searches, and you don't get notified until they're over.
Answer the Public Features
The core feature of Answer the Public is the search listening tool that collects, tracks and alerts key questions being searched on Google. It forms questions, prepositions, comparisons, alphabetical lists, and a related section for the keyword.
1. Question Based Keywords
There are 10 question modifiers that are added to the beginning of the keyword: which, who, what, when, will, why, how, can, are and where. For instance, if you type in 'digital marketing', two of the results you will get are 'why digital marketing is important' and 'will digital marketing be automated'.
2. Preposition Based Keywords
You also get question prepositions such as can, for, with, and without. For the keyword' digital marketing', results would include 'digital marketing for accountants' and 'digital marketing without degree'.
3. Comparisons
Surfer SEO also generates comparison results with the words or, versus, and, and like. An example of the keyword' digital marketing' is 'digital marketing vs. UX design'.


Answer the Public Pricing
Answer the Public has a Monthly plan that costs $99/month. The Annual plan has more users and video courses and costs $79/month. The Expert plan has unlimited users and more search listening alerts and costs $199/month.
Surfer SEO
Surfer SEO is a cloud-based search engine optimization tool used by marketers. It gives content suggestions, identifies gaps and formatting issues, and helps maintain your site's rank on Google.
Surfer SEO offers a set of 4 main features: planner, brief, content editor, and audit. There are also extensions you can add for free for keyword surfing and content editing, and a free AI article outline generator.
The tool has lots of data points and metrics, so it may be challenging to use for users without previous knowledge of SEO.
Surfer SEO Features
1. Content Planner
The content planner allows you to plan content based on keywords and your domain. It generates many ideas so that you can have content topics in advance.
2. Content Editor 2.0
The content editor is an interactive tool that gives guidelines and feedback on your writing. You can use it to share benchmarks, set deadlines, and define the characteristics of your content.
3. SEO Audit tool
The Audit tool produces reports that feature information such as missing backlinks, internal links, word count, and page speed. You can use this information to optimize and improve search traffic.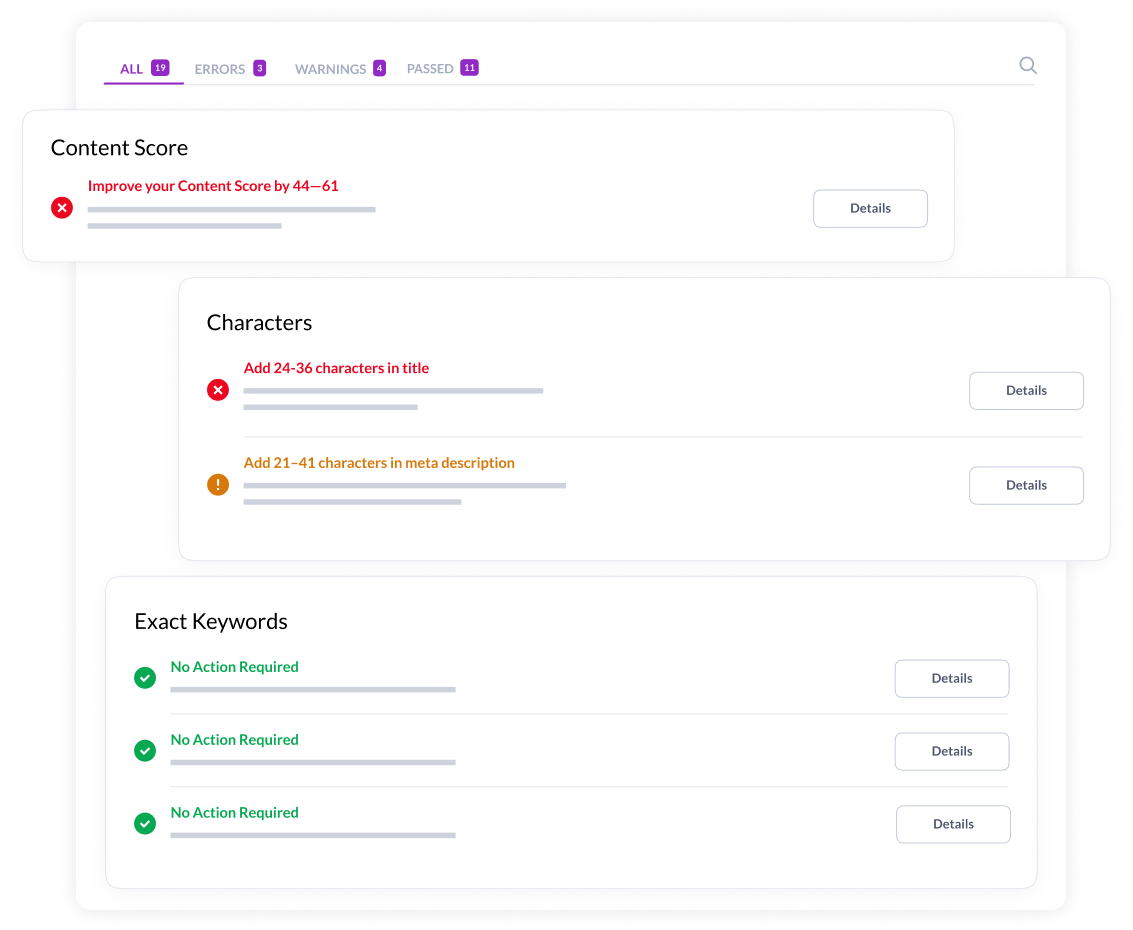 Surfer SEO Pricing
SurferSEO offers a money-back guarantee after a 7-day trial period. There are 3 priced plans available.
The Basic plan offered by Surfer SEO costs $49/month. It has free NLP for the first month and includes 10 content editors and 20 audits.
For more extended use of NLP and more content editors and audits each month, you can get the Pro plan for $99/month.
The Business plan has higher features such as API and white labeling and costs $199/month.
Is Your SEO Strategy Working?
Track key metrics including clicks, impressions, bounce rates, and scroll through rates in a single dashboard to find out how effective your SEO strategy really is
I Want In!
SpyFu
SpyFu is a suite of marketing tools for keyword research and competitive intelligence. It was established in 2005 by Mike Roberts. The specialization of the tool is that it lets you 'spy' on competitors.
SpyFu gives recommendations for SEO campaigns, tracks search engine rankings, and helps generate sales leads. It's best for use by small businesses and marketers who want deeper consumer insights.
SpyFu Features
1. SEO Competitor Research
SEO Competitor Research tools let you download search engine optimization keywords of competitors and view their ranks and clicks. Other uses are finding emerging competitors, building custom branded SEO reports, and tracing the search engine ranking history of pages.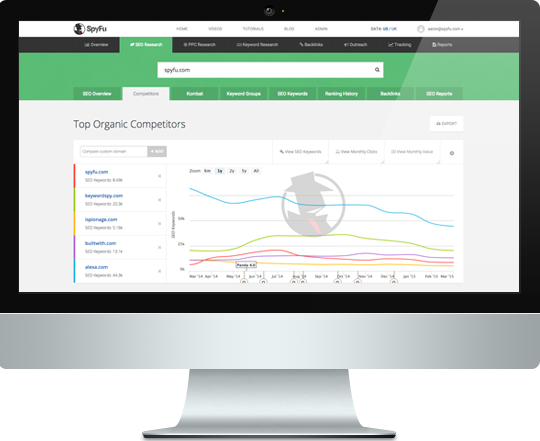 2. Keyword Research Tools
These are a set of tools that are also used for competitor research. They help you generate targeted keyword ideas and see the most profitable keywords in a niche. They also offer SERP analysis and show the results of competitors' ad tests.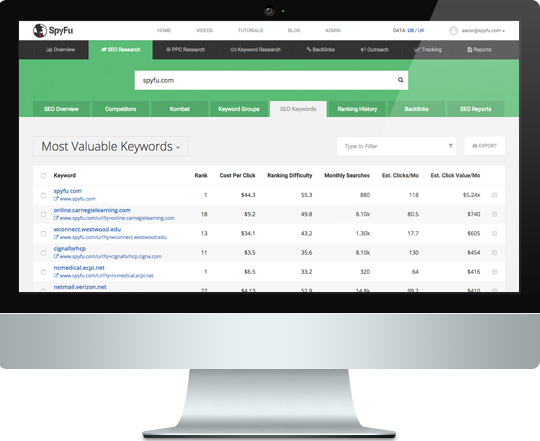 SpyFu Pricing
SpyFu's Basic plan costs $39/month and includes 10k row search results and 10k row data exports.
The Professional plan costs $58/month and includes unlimited search results and data exports.
The Team plan has higher features and costs $199/month.
These are the annual prices. SpyFu also has monthly prices on its site, which will cost more.
Conclusion
By using SEO tools and SEO dashboards, you can significantly improve keyword research and search engine rankings. Although the key features of each of these tools are centered around SEO, their core specializations are different. It's important to know what each tool can accomplish for your SEO needs so you can make the best decision for your SaaS.
FAQ
How important is SEO for SaaS businesses?
SEO is crucial for SaaS businesses more than any other. It helps rank higher on Google search results, which leads to more targeted users finding the site. This, in turn, leads to higher leads and sign-ups.
Is SEO expensive?
Though it's a relative question, SEO is generally perceived to be expensive. However, considering the importance of SEO, you could be saving much more costs by investing in it than losing by not.
Subscribe to the The Flow's weekly issues
Sharing everything we know about growth, with real playbooks we use, interviews with top growth leaders, and research & opinion pieces.